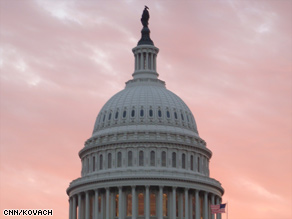 The CNN Washington Bureau's morning speed read of the top stories making news from around the country and the world.
WASHINGTON/POLITICAL
For the latest political news: www.CNNPolitics.com.
CNN: Obama aims to repair U.S. image in Muslim world
President Obama departed for the Middle East on Tuesday in an effort to repair a damaged U.S. image - and seemingly reset relations with the Muslim world.
CNN: Sotomayor to Feinstein: Latina remark 'poor choice of words'
Supreme Court nominee Sonia Sotomayor told Sen. Dianne Feinstein Tuesday her controversial Latina remarks were a "poor choice of words," the California Democrat said.
CNN: Pawlenty: 'I'm not ruling anything in or out'
Tim Pawlenty announced Tuesday that he will not seek a third term as governor, a decision that gives the Minnesota Republican room to start plotting a possible White House bid in 2012.
CNN: White House: No slight meant to Nancy Reagan on stem-cell issue
The White House did not intend to show any disrespect toward Nancy Reagan when it failed to invite the former first lady - a vigorous supporter of stem-cell research - to a bill-signing ceremony on the subject, White House Press Secretary Robert Gibbs said Tuesday.
CNN: Obama says immediate action needed on health care reform
Fixing America's health care system is necessary to expand coverage and prevent rising costs from further straining the U.S. economy, President Obama said Tuesday.
CNN: Joint Chiefs chairman: Troops' mental health needs to be priority
America's highest ranking military officer said Tuesday the nation must do more for the mental health of American soldiers, warning statistics show "there are going to be more [troop] suicides this year than last."
CNN: White House's Sotomayor talking points
CNN has obtained a White House document in support of Supreme Court nominee Sonia Sotomayor handed out to Republican senators Tuesday.
CNN: Obama keeping up with Bush's reading pace?
It appears President Obama has to step up his reading pace if he wants to beat his predecessor in one particular measure: how many books a president can polish off a year.
Washington Post: Cheney Led Briefings of Lawmakers To Defend Interrogation Techniques
Former vice president Richard B. Cheney personally oversaw at least four briefings with senior members of Congress about the controversial interrogation program, part of a secretive and forceful defense he mounted throughout 2005 in an effort to maintain support for the harsh techniques used on detainees.
Washington Post: President Pivots on Taxing Benefits
President Obama, in a pivot from some of his harshest campaign rhetoric, told Democratic senators yesterday that he is willing to consider taxing employer-sponsored health benefits to help pay for a broad expansion of coverage.
Wall Street Journal: Congress Helped Banks Defang Key Rule
Not long after the bottom fell out of the market for mortgage securities last fall, a group of financial firms took aim at an accounting rule that forced them to report billions of dollars of losses on those assets.
Washington Times: IRS files $800,000 lien on '04 Kerry campaign
The Internal Revenue Service has filed a tax lien seeking more than $800,000 from Sen. John Kerry's 2004 presidential campaign, escalating a dispute over payroll taxes that the lawmaker's office blames on faulty government paperwork.
NATIONAL
For the latest national news: www.CNN.com.
CNN: Former U.S. commander in Iraq calls for truth commission
The former commander of U.S. forces in Iraq who retired over the Abu Ghraib prison scandal is calling for a truth commission to investigate Bush-era policies behind the abuse and controversial interrogations of detainees.
CNN: Brazilian judge suspends order to reunite American boy and father
A Brazilian supreme court judge on Tuesday suspended a lower court's order that would have given custody of a 9-year-old boy to the U.S. consulate in Rio de Janeiro, where he was to be reunited with his American father.
CNN: Armored truck drops more than $300,000
Two good Samaritans returned more than $275,000 that tumbled out of an improperly secured armored truck in Syracuse, New York, last week. But some not-so-good Samaritans seem to have walked away with another $60,000 that fell onto the street.
CNN: National parks to offer fee-free weekends
It's hardly a bailout, but the federal government is hoping that waiving fees at national parks will help boost local economies across the country.
CNN: Suspects in alleged New York bomb plot indicted
Four men were indicted Tuesday in what prosecutors said was a plot to bomb two New York City synagogues and fire surface-to-air missiles at U.S. military planes.
NYT: Detroit's Woes Wound an Army of Suppliers
For nine years, the Strong brothers, Mark and Tim, made tools in their machine shop to maintain the giant presses that stamped steel sheets into fenders and hoods at a nearby General Motors factory in Lansing, Mich.
NYT: U.S. Releases Secret List of Nuclear Sites Accidentally
The federal government mistakenly made public a 266-page report, its pages marked "highly confidential," that gives detailed information about hundreds of the nation's civilian nuclear sites and programs, including maps showing the precise locations of stockpiles of fuel for nuclear weapons.
Washington Post: Administration to Reveal Plans for Katrina Housing Transition
The Obama administration will announce plans today to virtually give away roughly 1,800 mobile homes to 3,400 families displaced by Hurricane Katrina who are living in government-provided housing along the Gulf Coast, officials said.
Washington Post: Federal Antitrust Probe Targets Tech Giants, Sources Say
The Justice Department has launched an investigation into whether some of the nation's largest technology companies violated antitrust laws by negotiating the recruiting and hiring of one another's employees, according to two sources with knowledge of the review.
Bloomberg: Americans 'Don't Care' About GM, Bankruptcy-Stung Detroit Says
General Motor Corp.'s reign as the world's largest automaker made Detroit a proud city, said Ted Dobski, a retired GM executive from nearby Beverly Hills.
INTERNATIONAL
For the latest international news: http://edition.cnn.com/
CNN: Former royal, Riverdance star among plane's missing
Friends and relatives of the 216 passengers and 12 crew members on Air France Flight 447 are coming to terms with the news that wreckage from the flight was found in the Atlantic Ocean.
CNN: WHO considers move to pandemic phase 6 for H1N1 virus
The World Health Organization announced Tuesday it is still considering increasing its pandemic alert level to phase 6 because of growing worldwide cases of the H1N1 virus, or swine flu.
CNN: Al Qaeda deputy criticizes Obama's Egypt trip
On the eve of President Obama's highly anticipated speech to the Muslim world, al Qaeda's second-in-command issued an audio statement saying the president of the United States is not welcome in Egypt.
CNN: Iraqi gets life for killing aid worker in 2004
A court found an Iraqi man guilty of kidnapping and killing a humanitarian worker in 2004 and sentenced him to life in prison Tuesday, Iraqi court officials said.
NYT: U.S. Report Finds Airstrike Errors in Afghan Deaths
A military investigation has concluded that American personnel made significant errors in carrying out some of the airstrikes in western Afghanistan on May 4 that killed dozens of Afghan civilians, according to a senior American military official.
NYT: To Shut Off Tiananmen Talk, China Blocks Sites
China's government censors have begun to block access to the Internet services Twitter, Flickr, Hotmail and Microsoft's live.com, broadening an already extraordinary effort to shield its citizens from any hint of Thursday's 20th anniversary of the military crackdown that ended the 1989 Tiananmen Square pro-democracy movement.
LA Times: Men bedeviled in bid for sanctuary
When Simon Sheppard and Stephen Whittle stepped off a plane at LAX in July 2008 - a couple of jet-lagged Brits on the lam from the United Kingdom - they looked for the first uniformed U.S. official they could find. Unfortunately for them, they found one.
BUSINESS
For the latest business news: www.CNNMoney.com.
CNN: Will the GM bankruptcy work?
By the time General Motors filed for bankruptcy protection Monday, few in the auto industry doubted that's where the troubled automaker belonged. Whether GM's plan for a quick trip through bankruptcy will be enough to turn around the company is still up for debate.
CNN: Banks get ready for life after TARP
At long last, the end of TARP may be here for some big banks.
CNN: Health insurers face exam
As health insurers prepare to kick off their annual meeting, analysts expect answers on how to reduce health care costs and give customers more access.
Fortune: Meet the stimulus hires
With President Obama's vow to create or save 3.5 million jobs, critical fields like infrastructure and IT are starting to benefit. So just who are these workers tasked with rebuilding America? We tracked down a few recent hires to find out.
NYT: Even Under a Cloud, G.M. Is Predicting Sunshine
General Motors has been hemorrhaging customers for decades. For the last 30 years, it has been losing almost one percentage point of market share every year. It sold 45 percent of the new vehicles in this country in 1980, 35 percent in 1990, 28 percent in 2000 and 19 percent so far this year.
Wall Street Journal: Germany Blasts 'Powers of the Fed'
German Chancellor Angela Merkel, in a rare public rebuke of central banks, suggested the European Central Bank and its counterparts in the U.S. and Britain have gone too far in fighting the financial crisis and may be laying the groundwork for another financial blowup.
In Case You Missed It
To watch the latest interviews and reporting: http://www.cnn.com/video.
CNN: Harsh reality for Palestinians
CNN's Ben Wedeman takes a look at life in Na'alin, a town in the West Bank.
CNN: Bo bites microphone
The presidential family dog, Bo, bites and holds onto a reporters micrphone.
CNN: 'I used to believe...'
CNN's Kyra Phillips checks out a site where adults own up to their childhood misconceptions.
Subscribe to the CNN=Politics DAILY podcast at http://www.cnn.com/politicalpodcast.
And now stay posted on the latest from the campaign trail by downloading the CNN=Politics SCREENSAVER at http://www.CNN.com/situationroom.