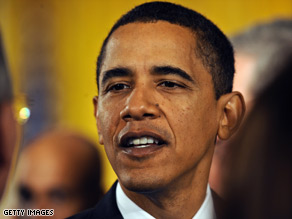 Obama's speech, at the Great Hall at Cairo University, was an effort to improve the image of the United States among Muslims.
(CNN) - Minutes after President Barack Obama finished his historic speech in Cairo, Egypt, on Thursday, CNN correspondent Ben Wedeman's phone rang.
It was Walid Batouti, the owner of an Egyptian tour company, and normally a skeptic of U.S. policy in the Middle East. "Yes, we can!" he shouted, echoing the campaign slogan that brought Obama to power last year. "I've had my problems with the U.S. in the past, but it was a great speech, and we really appreciated it," he said.
Batouti said he was going to put an Obama bumper sticker on his car and drive around town. Reza Aslan, the best-selling Iranian-American author of "No God But God," was also a doubter before the speech.
But his first response was a single word: "Wow!"
"If the purpose of the speech was to forge a new beginning between the U.S. and the Muslim world, he did that," he told CNN by phone from London.
"He spoke in terms no American president has done before," Aslan said, citing Obama's description of the invasion of Iraq as a war of choice, and the word "occupation" in relation to the Israeli-Palestinian conflict.
Aslan wanted Obama to press harder for democracy in the Muslim world, but did not actually expect him to do so while standing next to Egyptian President Hosni Mubarak, who has been in power for nearly three decades.
That was "by far the biggest weakness of the speech, but that was expected," he said.
But even Obama's "simple platitudes about democracy" got a warm response, Aslan observed.
"Hopefully he will recognize that by far his biggest applause lines were the democracy ones," he said.
In Pakistan, which the Obama administration has identified as one of its top priorities, the reaction was cautiously optimistic.
"This was an important speech where there were frank admissions of some injustices against the Muslim world," said political analyst Ishtiaq Ahmad, a professor at Quaid-i-Azam University.
But, he warned: "Speeches alone can't make a difference."
And Imtiaz Gul, the head of the Center for Research and Security Studies in Islamabad, said Obama made some false steps.
"Highlighting the billions of dollars in aid only plays up America's arrogance," he said.
Quoting the Quran and America's founding fathers was an effort "to show commonalities and shared responsibilities," Gul said, but added: "It's rhetoric we've heard before and it's much too early to see if it's working. We have to wait and see."
Practical steps in Afghanistan, where the United States is increasing its troop numbers, will make more of a difference than speeches, Gul argued.
"What has to happen is a de-Americanization of the war and the reconstruction efforts."
And in the cafes of Baghdad, Iraq, people wanted less talk and more action.
"This speech will not change anything," said Hussein Mahdi, 52, a former military man. "We want something physical, something real."
"Are those words going to be carried out?" asked Qasim Rasheed, an unemployed 55-year-old. "In our country, we have a lot of politicians who speak without doing anything."
–CNN's Richard Allen Greene, Reza Sayah, and Yousif Bassil contributed to
this report.