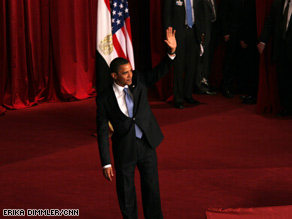 The president acknowledges the audience Thursday during his speech in Cairo.
CAIRO, Egypt (CNN) - President Obama outlined a series of outreach programs he wants to implement between the United States and Muslim-majority countries.
"I know that for many, the face of globalization is contradictory. The Internet and television can bring knowledge and information, but also offensive sexuality and mindless violence into the home. Trade can bring new wealth and opportunities, but also huge disruptions and change in communities. In all nations - including America - this change can bring fear.
"On education, we will expand exchange programs, and increase scholarships ... On economic development, we will create a new corps of business volunteers to partner with counterparts in Muslim-majority countries. ... On science and technology, we will launch a new fund to support technological development in Muslim-majority countries."