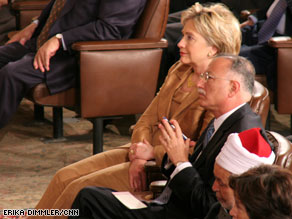 Secretary of State Hillary Clinton, long an advocate for women's rights on the world stage, looked on Thursday as the president spoke in Egypt.
CAIRO, Egypt (CNN) - "I reject the view of some in the West that a woman who chooses to cover her hair is somehow less equal, but I do believe that a woman who is denied an education is denied equality," President Obama said.
"Now, let me be clear: Issues of women's equality are by no means simply an issue for Islam. In Turkey, Pakistan, Bangladesh, Indonesia, we've seen Muslim-majority countries elect a woman to lead. Meanwhile, the struggle for women's equality continues in many aspects of American life, and in countries around the world."