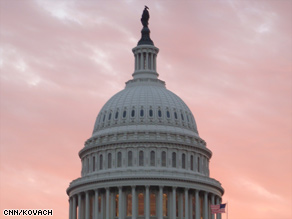 The CNN Washington Bureau's morning speed read of the top stories making news from around the country and the world.
WASHINGTON/POLITICAL
For the latest political news: www.CNNPolitics.com.
CNN: Obama in Egypt reaches out to Muslim world
President Obama delivered his long-awaited and wide-ranging speech Thursday on American and Muslim relations, offering a hand of friendship to Islam and addressing an array of quandaries and conflicts dividing the two cultures.
CNN: Obama's speech draws mixed reviews in Middle East
Israelis and Palestinians had one thing in common Thursday: They hung on every word in President Obama's wide-ranging speech on U.S. and Muslim relations.
CNN: GOP chastises Obama's speech over Israeli-Palestinian issue
President Obama's speech to the Muslim world on Thursday faced mixed reaction abroad - and a very clear directive at home from Republicans and conservatives: The United States cannot ruin its relationship with Israel.
CNN: Buchenwald survivors see Obama as family
A long narrow road winds through a thick forest up a hill called the "Ettesberg," on the outskirts of Weimar in central Germany.
CNN: Palin: Government wants to 'control the people'
Alaska governor Sarah Palin let loose Wednesday on the Obama administration for enacting fiscal policies that "fly in the face of principles" and "defy Economics 101."
CNN: Sotomayor's questionnaire delivered to Senate
A lengthy questionnaire filled out by Judge Sonia Sotomayor was delivered to the Senate Judiciary Committee on Thursday in preparation for Sotomayor's expected U.S. Supreme Court confirmation hearings this summer.
CNN: House Republican leaders float $375 billion in budget cuts
The House Republican leadership upped the ante Thursday in the ongoing debate over the size and scope of the federal budget, unveiling a proposal to cut spending by $375 billion over the next five years.
CNN: Senate health care talks get difficult
The bipartisan leaders of the two Senate Committees in charge of writing a health care reform bill met Thursday afternoon to begin tackling what they said are the more difficult and complicated issues.
NYT: Ailing, Banks Still Field Strong Lobby at Capitol
As he often does, President Obama took the opportunity in a bill-signing ceremony last month to remind Congress "to do what we were actually sent here to do — and that is to stand up to the special interests, and stand up for the American people."