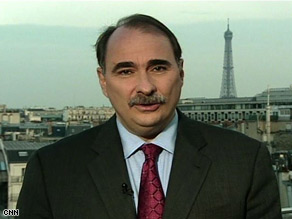 Obama senior adviser David Axelrod discussed the economy and health care reform in an interview that aired Sunday on CNN's State of the Union.
WASHINGTON (CNN) - President Barack Obama's $787 billion stimulus package is beginning to work, his senior adviser told CNN's "State of the Union" on Sunday.
David Axelrod cited the latest unemployment figures that showed the rate of new job losses slowing.
Although those figures showed the overall unemployment rate at a 26-year high, Axelrod said the stimulus money takes time to infiltrate the economy.
"Hopefully that is a sign that this is turning," Axelrod said. "It feels as if we're moving, and the stimulus package now is not nearly done, it's just really at its beginnings."
In a wide-ranging interview with CNN's John King, Axelrod also said Obama believes that capping tax deductions for high-income Americans is the best way to help offset the cost of expanding national health care.

An estimated 45 million Americans lack health insurance, and Congress is drafting plans for health care reform. Democrats and Republicans are sharply divided on both how to pay for it and how large a role the government should play.
Obama campaigned on the concept of high-income Americans paying more taxes to address needed spending. Axelrod said the president is pushing that idea with congressional leaders for health care reform.
Obama is "not foreclosing on anything," but told the legislators "'I really think my idea is best,'" Axelrod said.
Sen. Edward Kennedy, D-Massachusetts, who heads the Health, Education, Labor and Pensions committee, is circulating a proposed bill that includes a government-run insurance option to give all American access to health care benefits.
Republicans have developed their own proposals that emphasize choice. GOP leaders oppose any bill that offers a government-run option.
Axelrod said the bottom line is bringing down the cost of health care.
"If we do that and make it affordable, people are going to buy it, mandate or no mandate," he said. "People want health care."
Speaking from Paris after accompanying Obama on his trip to Saudi Arabia, Egypt, Germany and France, Axelrod also said the president's Cairo speech candidly stated the truth about the U.S. reaction to the Sept. 11 terror attacks in order to "clear away the debris" in international relations - not to criticize his predecessor.
In the June 4 speech, Obama called the Iraq conflict a war of choice, and said the response to the Sept. 11 attacks caused the United States to act contrary to its traditions and ideals – a reference to controversial interrogation techniques such as waterboarding. Both comments referred to policies of former President George W. Bush.
Obama also used the speech to call on Israel and the Palestinians to fulfill their negotiated obligations in seeking peace, and for the Muslim world to reject extremists who sow terror.
"You can't be candid about other people's actions and responsibilities and not your own," Axelrod said. "It wasn't meant to criticize any one person. It was meant to … discuss in an open and honest way where we've been in order to, as I've said, clear away the debris so we can move forward."