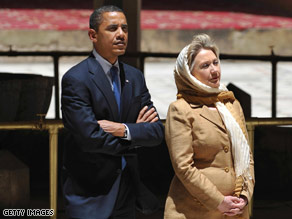 Secretary of State Clinton accompanied the president on his recent trip to the Middle East.
WASHINGTON (CNN) - When then President-elect Barack Obama first asked Hillary Clinton to be his top diplomat, she turned him down and recommended others for the job, the secretary of state said in an interview broadcast Sunday.
Speaking to ABC's "This Week," Clinton also said the president has answered the central question she raised about him when she was his chief rival for the Democratic nomination last year.
In her famous "3 a.m." ad, she questioned whether Obama was the right candidate to handle a middle-of-the-night international crisis.
"Has the president answered it for you?" host George Stephanopoulos asked.
"Absolutely," Clinton replied. "And, you know, the president, in his public actions and demeanor, and certainly in private with me and with the national security team, has been strong, thoughtful, decisive, I think he is doing a terrific job. And it's an honor to serve with him."
The former senator from New York and former first lady revealed details of how she came to accept the role.
"I never had any dream, let alone inkling, that I would end up in President Obama's cabinet," she said. "When I left the presidential race after getting some sleep and taking some deep breaths, I immediately went to work for him in the general election... And I was looking forward to going back to the Senate and, frankly, going back to my life and representing New York, which I love. And I had no idea that he had a different plan in mind."
When her name was mentioned in the media as a possible member of Obama's cabinet, Clinton said, she found the idea "absurd."