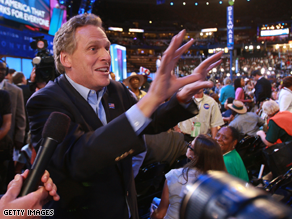 McAuliffe is one of three Democrats seeking their party's nomination for governor in Virginia.
WASHINGTON (CNN) - After months of sometimes acrimonious intra-party feuding, polls opened at 6 a.m. in Virginia on Tuesday amidst stormy weather for the commonwealth's first contested Democratic primary election for governor in decades.
On the ballot today: Former Democratic National Committee Chairman Terry McAuliffe, former state House delegate Brian Moran and state Sen. Creigh Deeds. The winner will face Republican Bob McDonnell in the general election, an off-year race that is seen by many as a proving ground for both the Obama administration and a beleaguered Republican party.
Despite the unprecedented amount of money spent on the race by all three campaigns, turnout is expected to be nowhere near the size of last year's Democratic primary between Obama and Hillary Clinton, which saw nearly a million voters. Instead, the campaigns believe the turnout will more closely resemble that of the 2006 Senate primary contest between Jim Webb and Harris Miller, in which only 155,000 of the party's most loyal voters showed up to vote. Because polling such a tiny slice of the electorate remains difficult, not even the savviest of Virginia political operatives have been able to predict a winner.
For his part, McAuliffe - a familiar face to national election-watchers but a newcomer to Virginia politics - is hoping that his message of job creation, a muscular campaign organization and a slew of television and radio ads have attracted some of the Democrats who were energized by the Obama campaign last year. If turnout is higher and includes a healthy showing from African-American voters in Richmond and Hampton Roads, that favors McAuliffe.
Moran, a veteran legislator from northern Virginia who resigned his post in the House of Delegates last year to campaign for governor, has run as the most progressive candidate in the race, notably by opposing the construction of a new coal plant in southeast Virginia. Although Moran has less cash than his rivals, he has a laundry list of endorsements from local officials around the commonwealth and will be relying on them to help get supporters to the polls. He also needs a strong showing in the Washington suburbs, where the bulk of Virginia's Democratic voters reside.
Deeds, meanwhile, enters Tuesday as the prohibitive frontrunner, buoyed by an endorsement from the Washington Post and a late surge among independent voters. But his late spurt has him drawing fire from his two opponents, who spent the last week highlighting some of Deeds' more conservative votes in the state senate. To win, Deeds needs to sufficiently cut into his rivals' margins in northern Virginia while turning out major support from his base in the state's small towns and rural areas.
Polls close at 7 p.m.