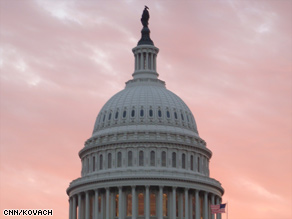 The CNN Washington Bureau's morning speed read of the top stories making news from around the country and the world.
WASHINGTON/POLITICAL
For the latest political news: www.CNNPolitics.com.
CNN: Palin center of attention at big GOP dinner
Newt Gingrich was the keynote speaker at Monday night's fundraising dinner for the Senate and House Republican campaign committees, but it was Sarah Palin who stole the show.
CNN: CIA asks court to keep interrogation records secret
CIA Director Leon Panetta on Monday asked a federal judge to keep records of U.S. interrogations of top al Qaeda captives secret, arguing their release could cause "exceptionally grave" damage to national security.
CNN: Health-care debate heats up as Senate, House grapple with plans
As the debate on health-care reform heats up on Capitol Hill, it's clear lawmakers don't see eye-to-eye on the issue - with each other or President Obama.
CNN: Clinton orders review of State Department security after arrests
Secretary of State Hillary Clinton said Monday she has ordered a review of security and vetting procedures that let a State Department employee suspected of spying for Cuba slip through the cracks.
CNN: White House focuses on stimulating the stimulus
As the nation's unemployment rate inches toward double-digit territory, the White House insists that job creation is on the way.
CNN: Senator signs Sotomayor's cast
It's one down, 99 more to go for Supreme Court nominee Sonia Sotomayor.
CNN: GOP raises $14 million in one night for 2010
Monday evening's high-profile Republican fundraising dinner yielded approximately $14 million, according to a joint statement released by congressional Republican leaders.
NYT: Republicans Regain Control of New York State Senate
The Democrats' tenuous control of the New York State Senate abruptly collapsed on Monday, throwing the Legislature into chaos with just two weeks remaining in its session.
NYT: Turf Battles on Intelligence Pose Test for Spy Chiefs
On May 19, Dennis C. Blair, the director of national intelligence, sent a classified memorandum announcing that his office would use its authority to select the top American spy in each country overseas.
NYT: Poll Finds Lukewarm Support for Bloomberg
Despite generally broad approval for the job Michael R. Bloomberg has done as mayor, a majority of New Yorkers say that he does not deserve another term in office and that they would like to give someone else a chance, according to a poll conducted by The New York Times, Cornell University and NY1 News.
NYT: An Ivy-Covered Path to the Supreme Court
President Obama may have broken with history by nominating a Latina to the Supreme Court, but in another respect he followed the path of almost every president in modern times who has successfully placed a justice: he chose a nominee groomed in an Ivy League university.
Washington Post: Banks May Need New Stress Tests, Panel Says
The federal government should repeat its stress tests of the nation's largest banks if its assumptions about the severity of the economic downturn prove too rosy, according to a congressional oversight report to be released today.
Washington Post: Court Ties Campaign Largess to Judicial Bias
The Supreme Court yesterday ruled for the first time that excessive campaign contributions to a judge create an unconstitutional threat to a fair trial, a decision that could have a nationwide impact on whether judges must recuse themselves in cases involving their political benefactors.
NATIONAL
For the latest national news: www.CNN.com.
CNN: NTSB to start hearings on plane's Hudson River landing
The National Transportation Safety Board on Tuesday will launch three days of hearings into the circumstances surrounding the US Airways Flight 1549 emergency landing on New York's Hudson River.
CNN: A week later, Air France mystery deepens
It's been little more than a week since an Air France jet crashed into the Atlantic Ocean, bringing a horrific end to the lives of the 228 people aboard.
CNN: Work begins on nation's largest mass transit project
The largest mass transit project in the country got under way Monday with the help of federal stimulus dollars, as public officials broke ground on a second passenger rail tunnel beneath the Hudson River.
CNN: High court rejects lawsuit over gays in military law
A former Army captain who was dismissed under a federal law dealing with gays and lesbians in the military lost his appeal Monday at the U.S. Supreme Court.
CNN: High court delays sale of Chrysler assets to Fiat group
The Supreme Court has delayed the imminent sale of most of Chrysler's assets to a group led by Italian automaker Fiat.
NYT: U.S. Frees Suspect in Killing of 5 G.I.'s
The American military has released a senior Shiite insurgent said to be backed by Iran who was accused of playing a leading role in a group that killed five American soldiers in Karbala in a sophisticated attack in 2007, according to senior American and Shiite officials.
USA TODAY: Rural Americans long to be linked
The people who live here are still waiting for the digital revolution to arrive.
USA TODAY: Sotomayor's nomination spotlights diabetes myths
The public's perception about diabetes may be a little off, suggest medical experts looking at the blitz of media coverage about Supreme Court Justice nominee Sonia Sotomayor, who has the disease.
Boston Globe: Globe union votes no
The Boston Globe's largest union last night narrowly rejected $10 million in wage and benefit cuts, and about an hour later the paper's owner declared an impasse in negotiations and imposed a 23 percent pay cut on the union's members, effective next week.
Wall Street Journal: Buddhist Monk Faces Worldly Green-Card Matters
Monk Phra Bunphithak Jomthong entered the U.S. four years ago on a religious visa and has since devoted himself to serving a burgeoning Buddhist community in Southern California. Barefoot and clad in a saffron robe, Mr. Jomthong recently gave what amounts to the most accurate job description he has: "to share Buddhist practices and to promote peace and harmony among people."
INTERNATIONAL
For the latest international news: http://edition.cnn.com/
CNN: Clashes in Peru leave more than 30 dead
A nervous calm settled over Peru on Monday night, three days after clashes between indigenous citizens and national police left more than 30 dead and 50 wounded.
CNN: Families plead with N. Korea for release
The families of two U.S. journalists sentenced to 12 years of hard labor in North Korea pleaded for clemency, urging the communist government to "show compassion" and release them.
CNN: Kashmir unrest claims 2 Indian soldiers, 3 militants
Two soldiers, including an officer, and three militants have been killed in a fierce gunfight in the Kupwara district on the north Kashmir frontier, the Indian army said Monday.
CNN: Pro-West bloc retains control in Lebanon
Lebanon's pro-Western bloc will retain its control of the country's government despite a strong challenge from a Hezbollah-dominated alliance, according to official election results released Monday.
CNN: More bodies found from Air France crash
Eight more bodies have been recovered from last week's crash of an Air France jetliner in the Atlantic Ocean, bringing the total to 24, Brazil's military announced Monday.
Washington Post: In Iran Election, Tradition Competes With Web
Supporters of both leading candidates in this week's Iranian presidential election flocked to mass rallies here Monday, and the gatherings underscored the differences between the tactics of the two camps.
Wall Street Journal: Upon Sober Reflection, Bahrain Reconsiders the Wages of Sin
Every weekend, bumper-to-bumper traffic blocks the causeway into this small island nation as visitors from nearby Saudi Arabia flock to delights unavailable at home: movie theaters, bars and, for some, commercial sex.
Times of London: Humility wins the day for Gordon Brown as MPs back down
Gordon Brown threw himself on the mercy of his party last night and promised to change the way that he governed as he tackled the crisis of confidence that has engulfed his leadership.
BUSINESS
For the latest business news: www.CNNMoney.com.
CNN: Stronger, faster iPhone 3GS will hit stores June 19
A new, faster version of the popular iPhone will hit stores June 19, Apple said Monday.
Fortune: The federal government gets TARP right
Sometimes the best investment is the one you didn't make. That's the case with one of the biggest investment pools in the country: the $700 billion Troubled Assets Relief Program, which Congress authorized last October to help combat the financial meltdown.
NYT: High Gas Prices Could Slow Recovery
After just a few months of relief at the pump, cheap gasoline is disappearing.
NYT: Shell to Pay $15.5 Million to Settle Nigerian Case
Royal Dutch Shell, the big oil company, agreed to pay $15.5 million to settle a case accusing it of taking part in human rights abuses in the Niger Delta in the early 1990s, a striking sum given that the company has denied any wrongdoing.
Bloomberg: U.S. Said to Plan Approval Today for 10 Banks to Repay TARP
The Treasury is preparing to announce today it will let 10 banks buy back government shares, people familiar with the matter said, signaling confidence some of the largest U.S. lenders won't again need a taxpayer rescue.
In Case You Missed It
To watch the latest interviews and reporting: http://www.cnn.com/video.
CNN: Parody mocks duck-sex comments
A parody of a televangelist's comments about love-making and ducks has ruffled some feathers. CNN's Jeanne Moos reports
CNN: Recession hits Little League
In Rialto, California, a poor economy has hit the local Little League hard.
CNN: Car plows through home
A woman slams into a house - in one end, and out the other. WEAR's Jake Peterson reports.
CNN: From Baghdad to Michigan
A high school principal who recently got deployed to Iraq offers inspirational words to the graduating class.
Subscribe to the CNN=Politics DAILY podcast at http://www.cnn.com/politicalpodcast.
And now stay posted on the latest from the campaign trail by downloading the CNN=Politics SCREENSAVER at http://www.CNN.com/situationroom.