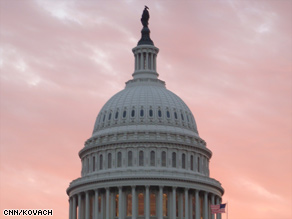 The CNN Washington Bureau's morning speed read of the top stories making news from around the country and the world.
WASHINGTON/POLITICAL
For the latest political news: www.CNNPolitics.com.
CNN: Supreme Court clears way for Chrysler
The U.S. Supreme Court on Tuesday cleared the way for the sale of Chrysler to a consortium led by Italian automaker Fiat.
CNN: Deeds win in Virginia sets stage for high-stakes election
State Sen. Creigh Deeds emerged from a tough and expensive three-way primary battle to capture Virginia's Democratic nomination for governor on Tuesday, a victory that immediately put him in the crosshairs of national Republicans eager to reinvigorate their party with an off-year triumph in the commonwealth this November.
CNN: Senate Dems propose comprehensive health reform bill
The national debate on health care entered a new arena Tuesday, with Senate Democrats proposing a comprehensive bill that will launch a heated congressional battle to determine if America adopts universal coverage.
CNN: Obama proposes making 'pay-as-you-go' the law
President Obama on Tuesday proposed making "pay-as-you-go" rules for federal spending into law.
CNN: Ex-Gitmo detainee pleads not guilty in embassy bombings
The first Guantanamo Bay detainee brought to the United States for trial pleaded not guilty Tuesday to charges related to two embassy bombings.
CNN: GOP Leader: Sotomayor vote might not happen until September
While Democrats are hoping the Senate vote on Judge Sonia Sotomayor's nomination to the Supreme Court takes place by the congressional summer recess, Republican Sen. John Thune told CNN Radio Tuesday he thinks the vote might not occur until September.
NYT: Poll Finds Paterson Deeply Unpopular
Fourteen months after being elevated to the governor's job, David A. Paterson is deeply unpopular among New Yorkers, who doubt his ability to grapple with the state's increasingly bleak economic situation, according to a poll by The New York Times, Cornell University and NY1 News.
NYT: For a 2012 Contender, Some Advantages in Leaving Office
When Gov. Tim Pawlenty of Minnesota announced last week that he would not seek re-election next year – a decision widely seen in political circles as clearing the way for a presidential run in 2012 – he appeared to give his verdict on one of the more intriguing strategic questions confronting many potential Republican contenders: In or out?
Washington Post: Goals Shift For Reform Of Financial Regulation
The Obama administration is pulling back from some of its most ambitious ideas for overhauling the financial system, after determining that the consolidation of power under fewer federal agencies would face grave opposition by lawmakers and regulators, sources familiar with the discussions said.
NATIONAL
For the latest national news: www.CNN.com.
CNN: 2 dead, 1 missing after Slim Jim plant explosion
Two people were found dead and a third person is still believed missing in a North Carolina food plant heavily damaged in a morning explosion, police said Tuesday night.
CNN: 'Unabomber' fights plans to auction his possessions
Convicted "Unabomber" Ted Kaczynski, who terrorized the country with a series of mail bombs over nearly two decades, is fighting to stop a public auction of his diaries and other personal possessions.
CNN: Gulfstream International denies allegations of safety violations
Gulfstream International Airlines' chief executive is denying allegations from current and former employees that the regional carrier has repeatedly violated safety rules in an effort to save money.
CNN: Soldier hurt in shooting: 'I like defending this country'
A U.S. soldier who survived a shooting this month at a Little Rock, Arkansas, recruitment center said Tuesday that he plans to stay in the Army, and he expressed gratitude for all the military has done for him and his family.
CNN: New security to get test with New York rail commuters
Commuters on the New York-New Jersey Port Authority Trans-Hudson (PATH) rail system will have added security screening Wednesday as part of a month-long pilot program, according to a news release from the Port Authority of New York and New Jersey.
NYT: Charitable Giving Declines, a New Report Finds
Charitable giving fell last year by the largest percentage in five decades, according to a new study by the Giving USA Foundation.
INTERNATIONAL
For the latest international news: http://edition.cnn.com/
CNN: Long-lost World War II sub found off Swedish coast
Lighthouse keeper J.A. Eckerman was the last person to see World War II Soviet submarine S-2 before it sank in January 1940 between Sweden and Finland.
CNN: Hariri 'will not shy away' from Lebanese PM post
Saad Hariri is poised to follow in his father's footsteps and become Lebanon's next prime minister, a position he said he "will not shy away from."
CNN: Iran's ex-president lashes out at Ahmadinejad
The unprecedented drama that has gripped Iran on the eve of its national election continued Tuesday with another salvo. This time, one of Iran's senior-most politicians accused hardline President Mahmoud Ahmadinejad of "lies and distortions."
CNN: Total of 41 bodies recovered from Air France 447 crash
Forty-one bodies have been recovered from the crash of Air France Flight 447, the Brazilian Navy Command and Aeronautical Command said Tuesday.
CNN: Mitchell to meet with Palestinian president
U.S. Mideast envoy George Mitchell, who is in the Middle East to try and kick-start the peace process, will meet with Palestinian President Mahmoud Abbas Wednesday morning.
CNN: Picasso sketchbook vanishes from locked case in Paris
A Pablo Picasso sketchbook with 33 pencil drawings disappeared from a locked glass case in a museum in Paris overnight, the French Ministry of Culture announced Tuesday.
CNN: London officers accused of waterboarding
The conduct of six suspended London metropolitan police officers is under investigation, Scotland Yard confirmed, amid British reports they allegedly waterboarded drug suspects.
CNN: Argentine soldiers sue officers, alleging torture
In 1982, they were young men serving their obligatory military service - Argentine conscripts who fought against the British that year during the Falklands War. More than 25 years later, many of those former combatants are in a legal battle against their former officers, alleging torture, starvation and murder at the hands of their own military.
CNN: Kim Jong Il's eldest son 'not interested' in succession
The eldest son of North Korean leader Kim Jong Il, in a rare television interview Tuesday, shed some light on who might eventually take over leadership of the country.
NYT: Battle to Halt Graft Scourge in Africa Ebbs
The fight against corruption in Africa's most pivotal nations is faltering as public agencies investigating wrongdoing by powerful politicians have been undermined or disbanded and officials leading the charge have been dismissed, subjected to death threats and driven into exile.
Washington Post: N. Korean Women Who Flee to China Suffer in Stateless Limbo
For North Korean women who run off to China, rules are rigged on both sides of the border.
BUSINESS
For the latest business news: www.CNNMoney.com.
CNN: House OKs $4 billion 'cash for clunkers'
The House on Tuesday waded deeper into the rescue of the troubled auto industry when it passed a $4 billion plan to subsidize new cars sales for consumers who scrap old ones.
CNN: Big companies make hay off stimulus
Big companies, ranging from AT&T to Dell to FedEx to Tyson Foods, are among those cashing in on the billions of dollars of federal stimulus money that is rolling out the door.
CNN: What's a public health plan anyway?
The debate over whether to have a government-backed insurance plan is fast becoming the most divisive health care reform issue.
Fortune: TARP payback may not help consumers
Don't expect TARP-free banks to unleash a torrent of loans to cash-strapped consumers.
Fortune: Fed gets subpoena on BofA-Merrill deal
For the second time this year, the Federal Reserve is under pressure to come clean on its role in a costly government bailout of a big financial company.
NYT: Mogul Ascends With Old Hollywood Clout
In 1992, Ariel Zev Emanuel, a young operative with the struggling InterTalent agency, had a problem with the rent on a $639-a-month walk-up in the city's modest Fairfax district. The landlord took him to court seeking eviction, and won.
NYT: Michigan Works to Remake Itself Without King Auto
The former General Motors Centerpoint truck plant in Pontiac, Mich., is another empty building that served for years as a reminder of the declining fortunes of American automakers.
NYT: Revenue at Craigslist Is Said to Top $100 Million
As the newspaper industry and its classified advertising business wither, one company appears to be doing extraordinarily well: Craigslist.
NYT: Sea of Red Ink: How It Spread From a Puddle
There are two basic truths about the enormous deficits that the federal government will run in the coming years.
Boston Globe: Times Co. seeks Globe bids
The New York Times Co. has hired an investment bank to manage the possible sale of The Boston Globe, and the company plans to request bids for Boston's major daily in the next couple of weeks, according to two people who say they may make offers on the newspaper.
Christian Science Monitor: Debt-collection tactics under scrutiny
Debt collector Antangela Pauldo had heard every excuse for why people couldn't pay their auto loans. And like most in her line of work, she instinctively had a skeptical view of every sob story.
In Case You Missed It
To watch the latest interviews and reporting: http://www.cnn.com/video.
CNN: Missile found and destroyed
U.S. Military destroys a missile found by a fisherman. WFTS's Eric Waxler reports.
CNN: Saro-Wiwa's memory kept alive
CNN's Christian Purefoy reports on what the Ogonis feel about the trial of Nigerian activist Ken Saro-Wiwa vs. Shell.
CNN: African athletes' dreams
Every African footballer's dream is to play in Europe. CNN's David McKenzie reports they face tough obstacles.
Subscribe to the CNN=Politics DAILY podcast at http://www.cnn.com/politicalpodcast.
And now stay posted on the latest from the campaign trail by downloading the CNN=Politics SCREENSAVER at http://www.CNN.com/situationroom.