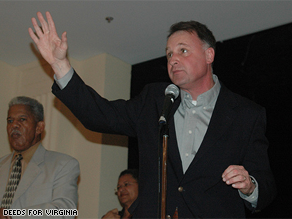 Deeds got a call from President Obama late this morning.
RICHMOND, Virginia (CNN) - President Obama called Virginia gubernatorial nominee Creigh Deeds just before noon on Wednesday to congratulate him on his victory in last night's closely-watched Democratic primary, CNN has learned.
The two men spoke after the three Democratic candidates - Deeds, Terry McAuliffe and Brian Moran - appeared with current governor Tim Kaine in Richmond in a show of unity at state party headquarters.
Kaine, who also heads the Democratic National Committee, promised to devote substantial resources to help Deeds defeat Republican Bob McDonnell in November.