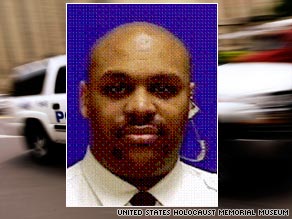 Stephen Tyrone Johns was shot and killed while working at the U.S. Holocaust Memorial Museum on Wednesday.
WASHINGTON (CNN) - The U.S. Holocaust Memorial Museum remained closed Thursday, its flags lowered to half-staff in tribute to a security guard who was killed trying to stop a man with a gun.
Authorities identified the suspect, who was wounded by other security guards, as 88-year-old white supremacist James von Brunn of Maryland.
The Metropolitan Police Department; the D.C. office of the FBI; the U.S. attorney's office and other federal and local officials will hold a news conference Thursday morning to discuss charges against von Brunn.