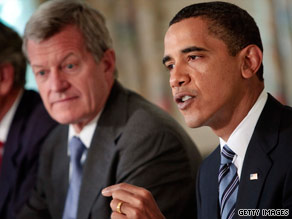 Sen. Max Baucus listens as President Obama speaks during a meeting on health care.
WASHINGTON (CNN) - President Obama on Thursday will step up his role in the health care debate, discussing the issue at a town hall meeting in Green Bay, Wisconsin.
The White House has increased its pressure on Congress to pass comprehensive health care legislation no later than October, but key aspects of Obama's health care wish list have met resistance with Republicans and even conservative Democrats.
However, a new proposal to create privately operated health-insurance cooperatives as an alternative to a government-run health care plan is gaining steam in the Senate, several key senators said Wednesday.
The plan is shaping up as possibly the most viable way to bridge a key difference between Democrats and Republicans negotiating a health care overhaul, senators said.