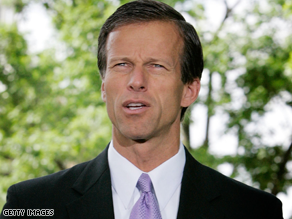 Sen. John Thune is among lawmakers calling for an end to TARP.
NEW YORK (CNNMoney.com) - For some, the slow, steady demise of TARP cannot happen soon enough.
Last week, 10 of the nation's largest financial firms won their release from the Treasury Department's Troubled Asset Relief Program, setting the stage for them to pay back the billions of dollars the government loaned them last fall.
But this news was book ended by two pieces of proposed legislation from members of the House and the Senate, both of which aim to end the controversial program sooner rather than later.
Rep. Jeb Hensarling, R-Texas, whose proposal would effectively shutter TARP by year's end, would prevent the Treasury Department from using any of the TARP money returned by banks to lend back out to other struggling firms.