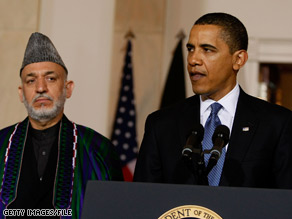 President Obama, pictured in this file photo with Afghan President Hamid Karzai, said Tuesday that the U.S. seeks an enduring partnership with the Afghan people.
WASHINGTON (CNN) - President Barack Obama congratulated Afghanistan on Tuesday on the start of the official election campaign for the August 20 presidential vote.
The United States is working with Afghan electoral authorities and the United Nations to help ensure a "credible, secure and inclusive election process," Obama said in a White House statement.
"The United States seeks an enduring partnership with the Afghan people, not with any particular Afghan leader," Obama said. "That partnership will be dedicated to enabling the newly elected president and other officials to deliver governance, security, justice and economic opportunity to all Afghans."
After the September 11 terrorist attacks in 2001, the United States invaded Afghanistan and toppled the ruling Taliban. But in recent months, the country has seen a resurgence in extremism and a rise in violence.
Last week, America's top general painted a bleak picture of the immediate future in Afghanistan, saying insurgent attacks have risen to levels not seen since 2001.
"There is no question that the situation has deteriorated over the course of the past two years and that there are difficult times ahead," said Gen. David Petraeus, who heads the U.S. Central Command.
Petraeus' comments came as the United States is embarking on new strategy in Afghanistan, with increased troop levels and a focus on counterinsurgency tactics.