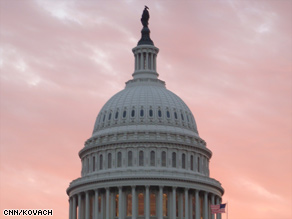 The CNN Washington Bureau's morning speed read of the top stories making news from around the country and the world.
WASHINGTON/POLITICAL
For the latest political news: www.CNNPolitics.com.
CNN: Obama to detail broad financial reform
President Obama on Wednesday will finally announce his long-anticipated plan to restructure how banks and other firms are regulated in the hope of preventing another financial collapse.
CNN: Obama to OK benefits for same-sex partners of federal workers
President Obama will sign a memorandum Wednesday granting health care and other benefits to the same-sex partners of federal employees, two senior administration officials said.
CNN: Nevada Sen. John Ensign admits affair
Sen. John Ensign of Nevada admitted Tuesday to an extramarital affair with a woman who had worked for him.
CNN: Cancer patient tells of rips in health insurance safety net
Robin Beaton found out last June she had an aggressive form of breast cancer and needed surgery - immediately.
CNN: House passes war supplemental funding bill
The House passed a $106 billion supplemental funding bill for the wars in Iraq and Afghanistan Tuesday on a narrow 226 to 202 vote after all but five Republicans and 32 Democrats voted against the measure.
CNN: Budget office: Health bill cost is $1.6 trillion over 10 years
The Congressional Budget Office has told Congress that one of the major health reform bills moving in the Senate would cost about $1.6 trillion over 10 years, multiple congressional sources told CNN.
CNN: Justice Ginsburg 'cheered' Sotomayor nomination
While most sitting Supreme Court justices refuse to comment at all about current and future nominees to that bench, one member says she can't wait to welcome Sonia Sotomayor to that exclusive club.
CNN: McCain shows off his new ride outside U.S. Capitol
Sen. John McCain officially got the keys to his 2010 Ford Fusion hybrid on Tuesday, and promptly took it for a spin around the Russell Senate office building in Washington — but not before accidentially tripping the car alarm.
NYT: E-Mail Surveillance Renews Concerns in Congress
The National Security Agency is facing renewed scrutiny over the extent of its domestic surveillance program, with critics in Congress saying its recent intercepts of the private telephone calls and e-mail messages of Americans are broader than previously acknowledged, current and former officials said.
Washington Post: CIA Fights Full Release Of Detainee Report
The CIA is pushing the Obama administration to maintain the secrecy of significant portions of a comprehensive internal account of the agency's interrogation program, according to two intelligence officials.
Washington Post: Old Legal Opinion Raises New Questions
Thirty years ago, the State Department legal adviser issued an opinion in response to an inquiry from Congress: The establishment of Israeli settlements in occupied Palestinian territories "is inconsistent with international law."
LA Times: Health insurers refuse to limit rescission of coverage
Executives of three of the nation's largest health insurers told federal lawmakers in Washington on Tuesday that they would continue canceling medical coverage for some sick policyholders, despite withering criticism from Republican and Democratic members of Congress who decried the practice as unfair and abusive.
McClatchy: In huge change, Obama to strip Fed of credit card oversight
Among the sweeping changes in government regulation that President Barack Obama will propose Wednesday is the creation of an independent and powerful Consumer Financial Product Safety Commission to regulate financial products such as mortgages and credit cards.
Politico: Obama opens Olympic office to aid Chicago's bid
Hoping to persuade the International Olympic Committee to award the 2016 Summer Games to his hometown of Chicago, President Obama on Tuesday afternoon announced the formation of a new White House Olympics office.
NATIONAL
For the latest national news: www.CNN.com.
CNN: Iranian-Americans 'hungry' for updates amid tumult in Iran
The Iranian-American community is half a world away from the turmoil in Iran, but they are tuning in, logging on and even stepping out in demonstrations to show solidarity with relatives and friends.
CNN: Michigan man claims he was N.Y. boy who vanished in 1955
For more than a half-century Jerry and Marilyn Damman wondered what happened to their 2-year-old boy, who mysteriously vanished into thin air outside a Long Island bakery.
CNN: N. Korea: U.S. journalists were creating 'smear campaign'
North Korea's state media released a "detailed report" Tuesday claiming that American journalists Laura Ling and Euna Lee entered the country illegally in order to record material for a "smear campaign" against the reclusive communist state.
CNN: U.S. refugee program failing Iraqis, report says
Iraqis fleeing violence in their homeland are struggling in America, where they had hoped to make new lives, said a report issued Tuesday by an agency that helps resettle refugees across the United States.
CNN: That's text-erity: Iowa girl all thumbs, wins national title
A 15-year-old girl with a 500-texts-a-day texting habit thumbed her way to the $50,000 grand prize at the L.G. National Texting Championship in New York on Tuesday.
CNN: Some suspect conspiracy in Holocaust Museum case
To most, the evidence against alleged Holocaust Museum shooter James von Brunn may seem overwhelming.
NYT: Election at a Draw, Arizona Town Cuts a Deck
Arizona is a modern place, among the fastest-growing states and home to Phoenix, the nation's fifth-largest city, with gleaming office towers and a just-opened light rail system.
Washington Post: Where Money Is Tight, Fourth of July May Fizzle
She has never felt confident with big numbers, so Kip Fordney brings along a college math major to count the money sure to pile up. Fordney, the head of Shippensburg's parks and recreation department, walks through downtown carrying a one-pound deli container turned into a collection cup and stops at each storefront to deliver a rehearsed pitch. "We're trying to save the Fourth of July fireworks," she says, over and over. "Can you help?"
Washington Post: PBS Blesses Old Religious Shows, But Bans the New
The Public Broadcasting Service agreed yesterday to ban its member stations from airing new religious TV programs, but permitted the handful of stations that already carry "sectarian" shows to continue doing so.
USA TODAY: For Boomers, recession is redefining retirement
They grew up during a time of cultural change, and now are being forced to redefine retirement at midlife.
Wall Street Journal: California Schools' Tough Choices
Residents of some affluent cities in this broke state are banding together to make up for cuts in public education, opening rifts between rich and poor school districts.
LA Times: Utah town's anger mounts over artifact arrests
Shortly after sunrise last week, a squad of flak-jacketed federal agents surrounded the remote home of Dr. James Redd, arrested his wife and then stopped the 60-year-old doctor as he returned from his morning rounds to arrest him as well.
Miami Herald: Former priest Alberto Cutié gets married at Coral Gables courthouse
Sitting in the passenger seat of a champagne-colored Lexus and hiding his face behind a newspaper, former Roman Catholic priest Alberto Cutié left a Coral Gables courthouse shortly after 1 p.m. Tuesday as a married man.
INTERNATIONAL
For the latest international news: http://edition.cnn.com/
CNN: Thousands rally in Iran; foreign coverage restricted
As thousands took to the streets again on Tuesday, Iran's government banned international journalists from covering rallies and blocked access to some online communication tools in the wake of last week's disputed presidential election.
CNN: Officials: Social networking providing crucial info from Iran
U.S. officials say the Internet, and specifically social networking sites like Twitter and Facebook, are providing the United States with critical information in the face of Iranian authorities banning Western journalists from covering political rallies.
CNN: Analysts pore over 'ambiguous' Iran results
Iranian presidential challenger Mir Hossein Moussavi's hometown of Tabriz is Exhibit A for his supporters as they argue that last week's election was rigged.
CNN: Analysis: The changing fight in Pakistan
Every time I come to Pakistan these days I see more security. This time is no exception. On the road from the airport to my hotel I counted nearly a dozen police checkpoints. Two years ago, there were none.
CNN: British Airways asks staff to work unpaid for up to a month
British Airways is asking thousands of its staff to work for free for up to four weeks, spokeswoman Kirsten Millard said Tuesday.
CNN: Recession boosts global human trafficking, report says
The global financial crisis has increased the worldwide trade in trafficked persons, says a State Department report released Tuesday.
CNN: Venezuela opens new probe against TV station
The government of leftist Venezuelan President Hugo Chavez heightened its battle Tuesday against the only critical private broadcaster left in the nation, launching a fourth investigation into the Globovision network.
CNN: Carter decries destruction in Gaza
Former U.S. President Jimmy Carter said Tuesday on a visit to Gaza that he had to "hold back tears" when he saw the destruction caused by the deadly campaign Israel waged against Gaza militants in January.
NYT: Civic-Minded Chinese Find a Voice Online
There was a time when the story of the 21-year-old waitress who fatally stabbed a Communist Party official as he tried to force himself on her would have never left the rural byways of Hubei Province where it took place.
Jerusalem Post: Forget speeches, soccer paves the path to peace
Less than 24 hours had passed since Israeli Prime Minister Benyamin Netanyahu called for "two peoples living truly, side-by-side, in amity and mutual respect" when a group of Israeli Jews, Israeli Arabs and Palestinian children put their differences behind them to play on mixed teams in a European Union-sponsored soccer event at the Wingate Institute on Monday.
BUSINESS
For the latest business news: www.CNNMoney.com.
CNN: More auto industry bankruptcies loom
A plea by struggling auto parts makers for $8 billion to $10 billion in additional federal loan guarantees was turned down by the Obama administration's auto task force last week.
Fortune: Red-hot Treasurys turn ice cold
One reason that investing is so challenging - and so much fun - is that owning a security that made you look like a genius one year can make you look like a dummy when the world changes the next year.
Fortune: MySpace to cut 30% of workforce
Social networking site MySpace said Tuesday that it plans to slash nearly 30% of its workforce, leaving it with 1,000 employees.
NYT: Europe Fears End of Incentives Will Dent Car Sales
As a cash-for-clunkers program is considered by Congress, European carmakers say they are worried about the impact of weaning themselves off similar incentives when they expire this year.
NYT: Stalking A Weaker Wall Street
Wall Street's great investment houses have never faced a serious foreign challenge in their own backyard. But as tectonic shifts reverberate through the banking industry, their overseas rivals are edging into some of the most lucrative corners of American finance.
In Case You Missed It
To watch the latest interviews and reporting: http://www.cnn.com/video.
CNN: The ultimate green car
First hydrogen powered car has launched so you can travel with a conscious and save money. CNN's Ayesha Durgahee reports.
CNN: Bollywood on a budget
The world financial drama hits Bollywood, but some in the industry say it's a good thing. CNN's Sara Sidner explains.
CNN: Texting rates too high?
Lawmakers want true consumer choice to avoid high texting rates, as CNN's Elaine Quijano reports.
Subscribe to the CNN=Politics DAILY podcast at http://www.cnn.com/politicalpodcast.
And now stay posted on the latest from the campaign trail by downloading the CNN=Politics SCREENSAVER at http://www.CNN.com/situationroom.