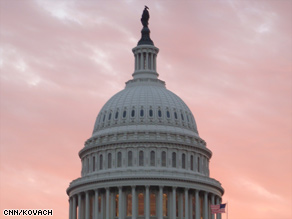 The CNN Washington Bureau's morning speed read of the top stories making news from around the country and the world.
WASHINGTON/POLITICAL
For the latest political news: www.CNNPolitics.com.
CNN: Secretary of State Clinton fractures elbow
Secretary of State Hillary Clinton fractured her right elbow Wednesday during a fall, State Department officials said.
CNN: Gay critics say 'too little, too late' from Obama
President Obama's decision to grant some benefits to the same-sex partners of federal employees is seen by some as his attempt to extend an olive branch to the gay and lesbian community, but critics say it's "too little, too late."
CNN: Frank slams Obama for 'big mistake' on Defense of Marriage Act
Four days after the Justice Department filed a brief strongly supporting the Defense of Marriage Act, openly gay Rep. Barney Frank said the Obama administration made a "big mistake" and is calling on the president to clearly explain his views on the matter.
CNN: Senate OKs block of alleged abuse photos
The Senate passed by unanimous consent Wednesday a bill that would prevent the release of controversial photos of alleged U.S. abuse of prisoners and detainees.
CNN: White House report warns of climate change effects
Man-made climate change threatens to stress water resources, challenge crops and livestock, raise sea levels and adversely affect human health, according to a report released by the Obama administration on Tuesday.
CNN: Pence: US needs to show support for Iranian protesters
Republican Rep. Mike Pence, criticizing President Obama for not saying more in support of protestors in Iran, said Wednesday that he is taking another step to show solidarity for the dissenting citizens of the country.
CNN: John Edwards talks affair, future
In his first at-length interview in the year since he admitted to an extramarital affair, former Democratic presidential candidate John Edwards says he's still not sure whether it was a mistake to run for the White House knowing his act of infidelity could be exposed.
CNN: Biden: Remember me? I used to work here
Joe Biden returned to his old stomping grounds Wednesday wearing three hats: vice president, historian, and comedian.
NYT: What Has 132 Rooms and Flies?
The White House is bugged! No, not like that. But actual flies are swarming the place, confounding housekeepers, irritating aides, even trying to feast on the president. During an East Room interview with John Harwood for CNBC and The New York Times on Tuesday, a giant fly orbited Mr. Obama's head.
NYT: Some Lawmakers Question Expanded Reach for the Fed
No sooner had President Obama proposed a new regulatory road map for the country's financial system on Wednesday than senior lawmakers expressed reservations about one of the plan's central elements — to broadly expand the reach of the Federal Reserve to regulate financial risk across the entire system.
NYT: White House Defends Inspector General's Firing
The White House said Wednesday that President Obama had dismissed a government agency's internal watchdog because he was incompetent and had behaved bizarrely, disputing accusations that he was fired because he had uncovered embarrassing problems in the AmeriCorps program.
Washington Post: Report on Bush Policy May Come In 'Weeks'
A Justice Department report focusing on possible ethics violations by Bush administration lawyers who approved waterboarding of terrorism suspects is still "a matter of weeks" from release, Attorney General Eric H. Holder Jr. told lawmakers yesterday.
Washington Post: Expansive Energy Bill Advances In Congress
A Senate energy bill was voted out of committee yesterday, but not before losing the support of two Democrats and a dozen leading environmental organizations.
Washington Post: After Stevens Case, Justice Dept. Corruption Unit in Disarray
Two months after prosecutors abandoned the criminal conviction of former senator Ted Stevens, the Justice Department unit that polices public corruption remains in chaos, coping with newly discovered evidence that threatens to undermine other cases while department leaders struggle to reshuffle the ranks.
USA TODAY: Congress to look into testimony by Sosa
A U.S. congressional committee will look into former baseball star Sammy Sosa's denial that he used illegal performance-enhancing drugs in light of a report that he tested positive for a performance-enhancing drug in 2003.
USA TODAY: House to cough up money U.S. owes U.N.
The United States is closer to no longer being a United Nations deadbeat.
Politico: NRSC paid son of woman in Ensign affair
The son of the couple at the center of the sex scandal that has engulfed Sen. John Ensign was being paid by National Republican Senatorial Committee in 2008 at the same time his mother was having an affair with the Nevada Republican.
NATIONAL
For the latest national news: www.CNN.com.
CNN: Police: 'Probability' exists man is N.Y. boy who vanished in 1955
Police said Wednesday that a private DNA test indicates a "probability" that a Michigan man was a 2-year-old Long Island child who disappeared in 1955.
CNN: Prosecutors: Man impersonated dead mother, collected benefits
A 49-year-old man impersonated his dead 77-year-old mother in paperwork - and sometimes in person - for six years, collecting more than $100,000 in her name, according to the Brooklyn district attorney.
CNN: Undocumented workers awarded $3.85 million in accidents
Two undocumented workers from Mexico and one from Ecuador have reached court settlements in recent weeks for a total of $3.85 million in damages for New York construction-site accidents, an attorney for the men announced Wednesday.
CNN: Asbestos cleanup 'emergency' declared in Montana town
A northwest Montana town where asbestos contamination has killed more than 200 people will get more than $130 million in cleanup and medical assistance from the Obama administration, the Environmental Protection Agency announced Wednesday.
CNN: Got $100? Welcome to your new Detroit home
If an e-mail popped up in your inbox promising a house for $100, you'd expect to see it sent from a guy in Nigeria asking you to wire him several thousand dollars first.
NYT: Older Recruits Challenge Army and Vice Versa
Pfc. Shane Dixon is known as Old Dix. Specialist Jason Ness goes by Gramps. Pfc. Christopher Batson's nom de boot camp is Pops. None of them are over 40, but to the 18-year-old soldiers in basic training here, they are as ancient as a first generation Xbox.
NYT: Slump Dashes Oregon Dreams of Californians
Susan and Mike Telford had a plan back in the boom years in California. They would sell their house outside Fresno at a solid profit and take their equity to this sunny mountain city to build a better life, a fresh-air future in Oregon.
USA TODAY: Cost-conscious companies re-evaluate wellness programs
Companies, desperate to slice fat from their budgets during this recession, increasingly are targeting workplace wellness programs. Smoking cessation and weight-loss programs are among those being considered for the chopping block, says Laurel Pickering, executive director of the New York Business Group on Health, a coalition representing employers on health benefit issues.
LA Times: Schwarzenegger says he'll veto Democrats' plan for balancing budget
Gov. Arnold Schwarzenegger told the leaders of the Assembly and Senate on Wednesday to scrap their plan to raise taxes to help close the state's budget deficit, but the two Democrats insisted they would move ahead next week with a vote of the full Legislature.
Wall Street Journal: In Maine, Residents Battle Over a Four-Letter Word: 'Squa'
For nearly a decade, locals here have been fighting American Indians over the name of a dead-end dirt road.
CS Monitor: Sotomayor's influence: Latinas in the South Bronx follow her lead
Savannah Irizarry's pink baseball cap proudly proclaims: "Boricua," an indigenous island word for Puerto Rican. Gold rings many of her fingers and several gold necklaces are draped around her neck, one of which spells out her nickname: "Savvy.""I tell everybody to look it up in the dictionary," she says with a grin, "that's who I am."
Washington Times: Cuban spies' shortwave radios go undetected
A retired State Department officer and his wife who are accused of spying for Cuba appear to have avoided capture for 30 years because their communications with the Caribbean island were too low-tech to be detected by sophisticated U.S. monitors.
INTERNATIONAL
For the latest international news: http://edition.cnn.com/
CNN: Iranian protesters mostly unfazed by government warnings
Marching in dramatic silence, many with tape over their mouths, hundreds of thousands of Iranians kept alive public support for opposition leader Mir Hossein Moussavi Wednesday even as the government stepped up efforts to thwart daily protests calling for a new presidential election.
CNN: Relatives: Iranian activist pulled from hospital bed, arrested
A former Iranian deputy prime minister who headed a group supporting increased freedom and democracy was pulled from his hospital bed and arrested Wednesday in Tehran, his granddaughter told CNN.
CNN: Iranian-Americans say history is at hand
Some Iranian-Americans, watching the post-election unrest in Iran, say the tug-of-war between the people and their hardline government has come to a head after three decades.
CNN: Air France probe 'a little bit closer' to answers, investigator says
Investigators are "getting a little bit closer" to determining what caused an Air France airliner to disappear into the Atlantic Ocean, but there are no answers yet, a French investigator said Wednesday.
Washington Post: Sudan's 'Coordinated' Genocide in Darfur Is Over, U.S. Envoy Says
President Obama's special envoy to Sudan, retired Air Force Maj. Gen. J. Scott Gration, said Wednesday that the Sudanese government is no longer engaging in a "coordinated" campaign of mass murder in Darfur, marking a shift in the U.S. characterization of the violence there as an "ongoing genocide."
NYT: Clerics May Be Key to Outcome of Unrest
With Iran's political establishment at war with itself, a central question lurking behind the postelection tumult is which side the country's highly influential clerics will back.
NYT: U.N. Atomic Energy Chief Says Iran Wants Bomb Technology
Mohamed ElBaradei, the chief of the United Nations nuclear watchdog agency, said it was his "gut feeling" that Iran's leaders wanted the technology to build nuclear weapons "to send a message to their neighbors, to the rest of the world: 'Don't mess with us.' "
Washington Post: Global Insurance Fraud By North Korea Outlined
For Kim Jong Il's birthday, North Korean insurance managers prepared a special gift.
Wall Street Journal: GAO Ties U.S. Guns to Mexico Violence
A new study by the Government Accountability Office says most firearms recovered in drug violence in Mexico come from the U.S., a finding that will likely fuel the politically charged debate over the U.S. government's efforts to stem gun trafficking across the border.
Times of London: MPs' expenses published in full
Official details of the expense claims of MPs have finally been released by the House of Commons authorities today, more than a year after the High Court ordered their publication and weeks after they were leaked to the media.
BBC: Bolivian leader 'enemy of Peru'
Peru's foreign minister has accused Bolivian President Evo Morales of being an enemy of Peru.
BUSINESS
For the latest business news: www.CNNMoney.com.
CNN: Obama: 'A sweeping overhaul'
President Obama on Wednesday unveiled his long-anticipated plan to restructure how banks and other firms are regulated in the hope of preventing another financial collapse.
CNN: Bankers rally around troubled watchdog
No one said selling a regulatory reform package would be easy.
CNN: Ford's bumpy road ahead
For much of the last year, Ford Motor has been the strongest U.S.-based automaker.
CNN: An auto startup in Louisiana – What the heck?
A largely unknown car company is planning to open its first factory in what used be a headlight plant in a small town in northern Louisiana, state officials announced on Wednesday.
NYT: Overhaul Leaves Rating Agencies Largely Untouched
Four stars, two thumbs up, a must read: Rave reviews like those might seem a bit suspect if they were paid for by the restaurateurs, movie makers and authors being reviewed.
NYT: Estimate Places Natural Gas Reserves 35% Higher
Thanks to new drilling technologies that are unlocking substantial amounts of natural gas from shale rocks, the nation's estimated gas reserves have surged by 35 percent, according to a study due for release on Thursday.
Bloomberg: World Bank Raises China 2009 Growth Forecast to 7.2%
The World Bank raised its growth forecast for China this year and advised policy makers to delay until 2010 any additional stimulus plan to boost the world's third-largest economy.
In Case You Missed It
To watch the latest interviews and reporting: http://www.cnn.com/video.
CNN: Working to overturn prop 8
On the first anniversary of same sex marriages in California, advocates push to repeal Prop 8. Jessica Yellin reports.
CNN: Most famous fly
From the world's most famous fly to the fly-eating dog, CNN's Jeanne Moos has the buzz.
CNN: It's Sanchez! Or is it...?
A comedy sketch team takes a lighthearted swing at CNN's "Twitter King" Rick Sanchez.
Subscribe to the CNN=Politics DAILY podcast at http://www.cnn.com/politicalpodcast.
And now stay posted on the latest from the campaign trail by downloading the CNN=Politics SCREENSAVER at http://www.CNN.com/situationroom.