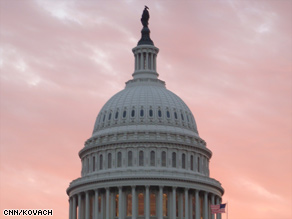 The CNN Washington Bureau's morning speed read of the top stories making news from around the country and the world.
WASHINGTON/POLITICAL
For the latest political news: www.CNNPolitics.com.
CNN: Republicans take issue with Obama on Iran
A top congressional Republican on Thursday joined critics of the White House's response to Iran's disputed presidential election, saying the United States has a "moral responsibility" to condemn attacks on protesters.
CNN: Kerry on Iran: Don't 'make this about America'
Sen. John Kerry defended President Obama Thursday for staying out of the controversy over the elections in Iran, telling CNN this was an "Iranian moment" and saying it would be an "enormous mistake" for the president to get involved.
CNN: Bush takes aim at Obama policies
In his most critical comments to date of the Obama administration's policies, former President George Bush Wednesday warned against the nationalization of healthcare, government overreach in the country's financial system, and the potential effects of closing the terrorist detention center at Guantanamo Bay.
CNN: White House fires back at Bush comments: 'We won'
A day after former President George W. Bush seemed to criticize the Obama administration for departing from a number of his anti-terrorism policies, White House Press Secretary Robert Gibbs fired back.
CNN: Polls: Obama being judged for actions, not promises
Three new national polls suggest that President Barack Obama is more popular than his policies. And two of those surveys, by NBC-Wall Street Journal and CBS-New York Times, also indicate that concerns over the massive federal deficit are growing.
CNN: Senate approves funds for Iraq, Afghanistan wars
The U.S. Senate on Thursday passed a $106 billion spending bill that includes about $80 billion for the wars in Iraq and Afghanistan, sending the bill to the White House for President Obama's signature.