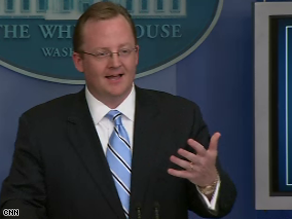 President Obama has to decide about the World Cup, Gibbs said.
(CNN) - President Obama has plans meet with FIFA President Sepp Blatter, but has yet to decide if he will attend next year's World Cup in South Africa.
"I'm told for scheduling that the president has accepted a meeting with the head of FIFA World Cup but that we have not yet all together made plans," White House Press Secretary Robert Gibbs said Monday in response to an ESPN report that the president had already committed to attending the event.
But Gibbs, who noted he was a soccer player in college, joked that he and a handful of other staffers are urging the president to go.
"I can assure you a small group have assembled in order to move the president in that direction," he said.