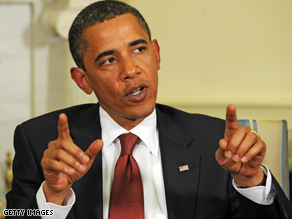 President Obama today signed a bill giving the Food and Drug Administration the power to regulate the sale of tobacco.
WASHINGTON (CNN) - Acknowledging his own struggle with smoking, President Obama signed a sweeping anti-tobacco bill into law Monday.
"Each day, 1,000 young people under the age of 18 become new regular, daily smokers, and almost 90 percent of all smokers began at or before their 18th birthday," Obama said. "I know; I was one of these teenagers. And so I know how difficult it can be to break this habit when it's been with you for a long time."
During his campaign for the presidency, Obama acknowledged that he had been an occasional smoker since he was a teenager, but had begun using nicotine-based chewing gum as a way to stop using cigarettes. And while the president has not been seen sneaking a smoke since taking the oath of office, the White House does not deny it is a an ongoing struggle.
"It's something that he continues to struggle with as somebody - like millions of Americans have," Press Secretary Robert Gibbs said at a briefing Monday when asked if Mr. Obama was still smoking.
The Family Smoking Prevention and Tobacco Control Act, signed by the president, gives the Food and Drug Administration the power to regulate the manufacturing, marketing and sale of tobacco. Among the enforcement mechanisms contained in the legislation, is the ability of the FDA to ban candy and fruit flavored cigarettes, widely regarded as an appealing allure to youths. It would also stop youth-focused marketing of tobacco products.
Obama signed the bill in the White House Rose garden surrounded by members of Congress who worked on the bill, and members of 'Campaign for Tobacco Free Kids' who ranged in age from 9-14.