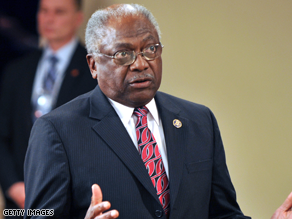 Clyburn said the governor should have told more people where he was going.
COLUMBIA, South Carolina (CNN) - South Carolina Rep. Jim Clyburn said Tuesday that Gov. Mark Sanford should have told the state's lieutenant governor he would be traveling out of state before embarking on a hiking trip along the Appalachian Trail.
"I wish he had called the lieutenant governor and at least alerted him to the fact that he was going to be out of pocket," Clyburn told CNN. "That way we would not have any kind of possible crisis."
But Clyburn, the highest-ranking African-American in Congress, said he understands the need for politicians to escape from the public eye every now and then. "I think that we give up a lot of our privacy when he get into public office," he said.
Sanford reportedly left Columbia last Thursday in a state law enforcement vehicle. Clyburn said he did not think it was unusual for an official to slip away without telling security.
"I went to the barber shop this morning," Clyburn said. "I didn't tell my security detail. I think a lot of time we do that. So I don't see any real harm in that. But leaving the state is another question."
"I wish he had chosen the Palmetto Trail to hike upon, that way he could have stayed within the state and not created a possible crisis," he said.