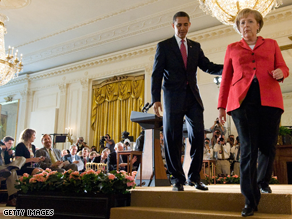 In a joint press conference, President Obama and German Chancellor Angela Merkel both condemned the post-election violence in Iran.
WASHINGTON (CNN) - U.S. President Barack Obama and German Chancellor Angela Merkel condemned Iran's post-election crackdown on Friday and expressed a common determination to prevent the Iranian regime from acquiring nuclear weapons.
They also underscored, among other things, a mutual commitment to a two-state solution to the Israeli-Palestinian conflict, a desire for closer economic cooperation, and a strong intention to work together on the issue of global warming.
They made their remarks during a joint appearance at the White House.
The United States and Germany "speak with one voice" in defending the rights of Iranians to assemble and have "their voices heard" in pursuit of justice," Obama said.
The Iranian government's violent post-election crackdown is "outrageous," he added. "We condemn it."
Merkel promised that the world "shall not forget" the "horrifying scenes" playing out in Tehran in recent weeks.
"Iran cannot count on the world community turning a blind eye to this," she said.
Both leaders said it was critical to prevent Iran from acquiring nuclear weapons, in part to prevent the escalation of a dangerous Middle East arms race. Merkel, however, emphasized the need to find a diplomatic solution to the crisis, and Obama indicated that international engagement with the Iranian government would continue despite the crackdown precisely because of the nuclear question.
The president was less clear about the future of direct relations between Washington and Tehran in the wake of the crackdown. He was also dismissive when asked about Iranian President Mahmoud Ahmadinejad's demand that the U.S. government apologize for interfering in Iran's internal affairs.
"I don't take Mr. Ahmadinejad's statements about apologies seriously," Obama said. The United States "has gone out of its way not to interfere with election process in Iran. ... I'd suggest Mr. Ahmadinejad think carefully about his obligations to his own people" and the families of those beaten, shot, and detained in recent weeks.
Obama also reiterated his recent argument that any government that treats its own citizens "with that kind of ruthlessness and violence" has moved outside of "international norms" that are important to uphold.
While Obama and Merkel displayed a warm rapport during their meeting, relations between the United States and Germany have been strained in recent months. Among other things, American officials have expressed frustration with the reluctance of NATO allies - including Germany - to contribute more troops and assistance to the war in Afghanistan.
The American and German governments have also differed sharply in their responses to the global economic crisis. American officials have hinted that Germany has not contributed enough in terms of stimulus spending, while German officials have expressed concern that excessive U.S. spending may lead to a jump in inflation.