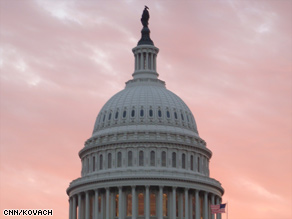 The CNN Washington Bureau's morning speed read of the top stories making news from around the country and the world.
WASHINGTON/POLITICAL
For the latest political news: www.CNNPolitics.com.
CNN: Sanford spends day with family amid calls for his resignation
South Carolina Gov. Mark Sanford spent Thursday with his family, a day after he admitted to having an extramarital affair with an Argentine woman, his office said.
CNN: South Carolina's Sanford faces uncertain future
South Carolina Gov. Mark Sanford's office is in damage-control mode Thursday, a day after the Republican governor tearfully admitted he's been having an extramarital affair.
CNN: South Carolina's first lady, scrutinized
Sharp-witted. Direct. In control. Loyal.
CNN: Sanford's wife: 'His career is not a concern of mine'
Jenny Sanford said Thursday that her husband Mark Sanford's political career is "not a concern of mine" and that she'd be just fine - regardless of whether their marriage survives.
CNN: Obama makes eleventh-hour push for energy bill
President Obama acknowledged Thursday that a climate change bill strongly backed by the White House will face an extremely close vote in the House of Representatives as early as the end of the week.
CNN: Palin hits back at 'malicious' photo
A week after a high-profile uproar with comedian David Letterman over the late-night host's joke about her daughter, Alaska Gov. Sarah Palin is again sharply responding to the appearance of her children in the public sphere.
CNN: Senators to introduce Iran legislation
Three U.S. senators said Thursday they will introduce legislation funding a package of assistance to help get around the Tehran regime's information block.
CNN: Teen strip-searched in school wins partial victory
A former middle-school student who was strip-searched by school officials looking for ibuprofen pain medication won a partial victory of her Supreme Court appeal Thursday in a case testing the discretion of officials to ensure classroom safety.
CNN: Scenes from the White House: Welcome to the luau
It's the White House South Lawn, but turn the right way and ignore the looming Washington monument, and you just might think that you're in Waikiki, Hawaii.
NYT: 6 Considered Threats Kept Licenses for Aviation
At least six men suspected or convicted of crimes that threaten national security retained their federal aviation licenses, despite antiterrorism laws written after the attacks of Sept. 11, 2001, that required license revocation. Among them was a Libyan sentenced to 27 years in prison by a Scottish court for the 1988 bombing of Pan Am 103 over Lockerbie.
NYT: Republicans Focus on Guest Workers in Immigration Debate
President Obama told a bipartisan group of lawmakers on Thursday that Congress should begin debating a comprehensive immigration plan by year's end or early next year, but Republicans said they would support a measure only if it included an expansion of guest worker programs.
NYT: For the Farm Lobby, Too Much Is Never Enough
With the possible exception of the ski industry, it's hard to think of any sector of the economy that will be hit harder by global warming than agriculture. A report out last week from scientists at 13 government agencies found that climate change is happening more quickly than we thought and that by the end of the century, many farmers will face scorching summer weather, severe storms, prolonged drought and swarms of new insects.
Washington Post: The Political Enclave That Dare Not Speak Its Name
No sign explains the prim and proper red brick house on C Street SE.
Bloomberg: Bernanke Grilling May Weaken Case for Fed as Risk Regulator
Chairman Ben S. Bernanke's grilling by legislators over Federal Reserve conduct in Bank of America Corp.'s takeover of Merrill Lynch & Co. may reduce the odds the central bank will win new powers in a regulatory overhaul.
NYT: With Vote on F-22 Jet, Panel Defies Veto Threat
Despite a White House threat to veto any bill that includes money for more F-22 fighter jets, the Senate Armed Services Committee voted 13-11 on Thursday to authorize $1.75 billion for seven more planes. It also asked the Pentagon to explore creating a less-classified version that could be sold to Japan and other allies.
NATIONAL
For the latest national news: www.CNN.com.
CNN: Michael Jackson dead at 50 after cardiac arrest
Entertainer Michael Jackson died after being taken to a hospital on Thursday having suffered cardiac arrest, according to the Los Angeles County Coroner's office.
CNN: Jackson was star the world could not ignore
Michael Jackson had a level of hero worship on a par with Elvis Presley or the Beatles but he was the first black star to inspire such a massive following around the world.
CNN: Michael Jackson, a man apart
He was lauded and ridiculed. He broke down barriers and built them around himself. He soared to heights unimaginable with his music, and he made the ignominious front page of gutter tabloids worldwide.
CNN: Farrah Fawcett, sex symbol and actress, dies
Farrah Fawcett, the blonde-maned actress whose best-selling poster and "Charlie's Angels" stardom made her one of the most famous faces in the world, died Thursday. She was 62.
CNN: Officials say crash like D.C. Metro not likely in other cities
The trains that crashed on the Washington Metro depended on a 33-year-old automated control system widely used in cities across the United States, according to the American Public Transportation Association.
CNN: Family of Iowa suspect urges prayers after coach's killing
The family of a man suspected of fatally shooting an Iowa football coach urged the community Thursday to pray for the victim's family.
Washington Post: Metro Control System Fails Test
A train control system that should have prevented Monday's deadly Metro crash failed in a test conducted by federal investigators, officials said yesterday, suggesting that a crucial breakdown of technology sent one train slamming into another.
Washington Post: White House Says Transportation System Overhaul Must Wait
After rejecting criticism that it is taking on too much, the Obama administration has identified one area where ambitious reforms will have to wait: overhauling the nation's aging, congested and carbon-emitting transportation system.
NYT: Pastor Urges His Flock to Bring Guns to Church
Ken Pagano, the pastor of the New Bethel Church here, is passionate about gun rights. He shoots regularly at the local firing range, and his sermon two weeks ago was on "God, Guns, Gospel and Geometry." And on Saturday night, he is inviting his congregation of 150 and others to wear or carry their firearms into the sanctuary to "celebrate our rights as Americans!" as a promotional flier for the "open carry celebration" puts it.
NYT: $400 Million From Tax Amnesty Program Gives Trenton a Budget Breather
It is a surprise that governments, businesses and people everywhere would envy in these lean times: a windfall of more than $400 million in revenue.
INTERNATIONAL
For the latest international news: http://edition.cnn.com/
CNN: Ahmadinejad calls Obama meddler, likens him to Bush
Iran's President Mahmoud Ahmadinejad on Thursday called the U.S. president inexperienced, compared him unfavorably to President George W. Bush and suggested he apologize for "interfering in Iran's affairs."
CNN: Moussavi maintains defiant stance
Iranian opposition leader Mir Hossein Moussavi issued a defiant statement Thursday, again insisting the controversial June 12 presidential election was a "fraud," Iran's government-funded Press TV reported.
CNN: Iranian envoy: CIA involved in Neda's shooting?
The United States may have been behind the killing of Neda Agha-Soltan, the 26-year-old Iranian woman whose fatal videotaped shooting Saturday made her a symbol of opposition to the June 12 presidential election results, the country's ambassador to Mexico said Thursday.
CNN: 9 killed as attacks intensify in Baghdad
Violence in Iraq surged again Thursday, leaving nine people dead and dozens wounded, including several U.S. troops, authorities said.
CNN: Bodies of Air France captain, steward found
Search crews have recovered the bodies of the flight captain and a steward from the Air France flight that crashed off the coast of Brazil.
CNN: Honduras president challenges government over referendum
A political crisis in Honduras escalated Thursday as a defiant President Jose Manuel Zelaya Rosales, followed by hundreds of supporters, led a loud but peaceful protest to a military base in order to personally take possession of thousands of ballots to be used in a contested referendum Sunday.
CNN: U.S. criticizes arrest of Chinese dissident
The United States said Thursday it was "deeply disturbed" over well-known Chinese dissident Liu Xiaobo's arrest for alleged subversive activities and pressed for his release.
NYT: Premier Casting U.S. Withdrawal as Iraq Victory
Prime Minister Nuri Kamal al-Maliki has taken to calling the withdrawal of American combat troops from Iraq's cities by next Tuesday a "great victory," a repulsion of foreign occupiers he compares to the rebellion against British troops in 1920.
NYT: Israelis Cede More Control of West Bank Security
Israel has agreed to give the Palestinian security forces more freedom of action in four West Bank cities, Israeli and Palestinian security officials said Thursday, a move that implies a reduction in Israeli military activity in those areas as the Western-backed Palestinian forces assert more control.
NYT: Warily Moving Ahead on Oil Contracts
When Iraq puts development rights to some of its largest oil fields up for auction to foreign companies on Monday, the bidding will be a watershed moment, representing the first chance for petroleum giants like ExxonMobil to tap into the resources of a country they were kicked out of almost 40 years ago.
Washington Post: Arab Activists Watch Iran And Wonder: 'Why Not Us?'
Mohamed Sharkawy bears the scars of his devotion to Egypt's democracy movement. He has endured beatings in a Cairo police station, he said, and last year spent more than two weeks in an insect-ridden jail for organizing a protest.
BBC: G8 ministers mull Iran response
Foreign ministers from G8 countries are trying to agree a joint response to post-election violence in Iran.
Bloomberg: Zardari Seeks Advanced U.S. Weapons to Crush Pakistani Taliban
Pakistani President Asif Ali Zardari asked the Obama administration to provide his armed forces with advanced American weapons to help crush Taliban insurgents in the tribal zone bordering Afghanistan.
BUSINESS
For the latest business news: www.CNNMoney.com.
CNN: Health reform FAQ: Cutting through the noise
Warning: Headaches may result from trying to figure out what's going to come out of the debate on Capitol Hill. The proposals under consideration are incomplete. But the rhetoric is rich. So if you're having a hard time making sense of it all, we hope this will help.
CNN: Bernanke denies making threats to BofA
Federal Reserve Chairman Ben Bernanke denied accusations Thursday that he pressured Bank of America to follow through on its purchase of Merrill Lynch late last year or risk having top management removed.
CNN: Obama's automatic IRA
Just about all parents tell the same war stories from childhood: "When I was your age, I had to walk two miles – in 3 feet of snow — to get to school." Or, "When I was your age, we had only one TV in the house." But pretty soon, parents may add this one, too: "When I was your age, I didn't have an IRA."
NYT: Recession's Children
In the tight-knit, middle-class communities surrounding Dayton, many members of the class of '09 knew exactly what they would do when they grew up.
In Case You Missed It
To watch the latest interviews and reporting: http://www.cnn.com/video.
CNN: Graffiti is global
BNE graffiti spreads in Bangkok and around the world. CNN's Dan Rivers tries to track down the prolific graffiti "king"
CNN: Tesla's electric car in UK
CNN's Jim Boulden takes Tesla's electric car and its CEO for a spin.
CNN: Fans sing 'Rock With You'
A crowd of Michael Jackson fans outside the Apollo Theater in New York start singing 'Rock With You.'
Subscribe to the CNN=Politics DAILY podcast at http://www.cnn.com/politicalpodcast.
And now stay posted on the latest from the campaign trail by downloading the CNN=Politics SCREENSAVER at http://www.CNN.com/situationroom.