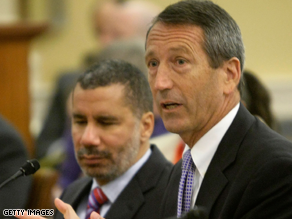 A South Carolina attorney is calling for Gov. Mark Sanford to resign.
(CNN) - A South Carolina state lawmaker is calling for an investigation of the state's governor, Mark Sanford.
The move comes two days after Sanford admitted to an extramarital affair with a woman from Argentina. The governor also acknowledged Wednesday that he did not tell his staff that he was in Argentina during a five-day period over the past week.
State Rep. Boyd Brown, a Democrat, is requesting that South Carolina Attorney General Henry McMaster begin a grand jury investigation of the governor.
"I therefore request that you take immediate and appropriate action to empanel the State Grand Jury to investigate the possible misuse of state property, finances, and the negligence of duties in the office of governor," said Brown in a letter to McMaster released Friday.
CNN Radio: Sanford faces another call to resign
"The recent events have left many unaswered questions and I am sure you agree with me that the people of South Carolina expect and deserve an open, honest, and transparent government, a standard that should apply from dog catcher all the way up to the office of governor."
Later Friday, State Sen. Jake Knotts is also expected to call for an investigation. Knotts is a Republican but is considered an opponent of the governor.
–CNN's Peter Hamby and Paul Steinhauser contributed to this report