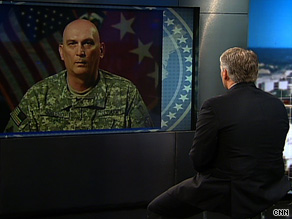 Gen. Ray Odierno, the top U.S. commander in Iraq, said Sunday that it's time for us to move out of the cities.
BAGHDAD, Iraq (CNN) - Tuesday marks the long-anticipated deadline for American troops to pull out of Iraqi towns and cities, but on Monday, there will be no long lines of tanks rolling out of Baghdad or thousands of troops marching out of other cities.
The U.S. military has been gradually pulling its combat troops out of Iraq's population centers for months to meet the deadline agreed to by Washington and Baghdad.
Since January, Americans have handed over or shut down more than 150 bases across the country, leaving U.S. troops in a little more than 300 locations in Iraq that gradually will be handed over to Iraqi control.
Iraqis expressed mixed feelings in the run-up to what the government has been describing as National Sovereignty Day.