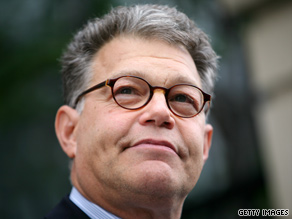 Join the conversation on Jack's blog.
Al Franken is headed to Washington. Nearly eight months after Election Day, the Minnesota Supreme Court unanimously declared Franken the state's next senator.
And once he is sworn in - presumably next week - the Democrats will finally have their so-called super majority; meaning they'll have 60 votes, which is enough to stop any Republican filibuster.
On paper it seems like a home run for Democrats and for President Obama's ambitious agenda in the coming months. But in reality it might not be so easy.
For one thing, Democrats won't always have the 60-vote majority because Senators Ted Kennedy and Robert Byrd are both ill and are only likely to return for the most crucial votes. Also, Former Majority leader Trent Lott once said governing the Senate is like herding cats; and Senate Democrats have already proven they won't fall into line when it comes to some of the president's top priorities.
To read more and contribute to the Cafferty File discussion, click here