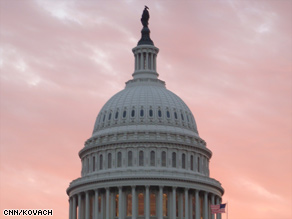 AP: Internet drug purchases included in spending bills
The Senate dealt a blow to the drug lobby Thursday by voting to permit people in the United States to order lower-cost drugs from Canada over the Internet.
CNN: Statement: Ensign's parents give mistress' family $96K
The story of Sen. John Ensign's affair with a former staffer took a new twist Thursday with the revelation by Ensign that his parents gave the woman's family $96,000 as a gift.
CNN: Coburn: 'I will never reveal' what I told Ensign
Sen. Tom Coburn — who confronted fellow Sen. John Ensign in an effort to convince him to end an extramarital affair — denied allegations Thursday he'd suggested Ensign pay off the husband of the woman he was having an affair with, telling reporters on Capitol Hill that he would not berevealing the content of his conversations with the Nevada senator.
NYT: C.I.A. Reviewing Its Process for Briefing Congress
The Central Intelligence Agency is conducting an internal review of how it briefs Congress on secret programs, intelligence officials said on Thursday, as Democrats and Republicans traded barbs over an admission by the agency's director that the C.I.A. failed for eight years to inform the Intelligence Committees of one unidentified program.
Washington Post: Congress Targets Wealthiest Earners for Health Reform Funds
House and Senate negotiators are looking to wealthy individuals to pay much of the $1 trillion price tag for their plan to reform health care, though they are struggling to agree on the most viable option for obtaining that new revenue.
Washington Post: SAIC Case Sheds Needed Light on World of Government Contracting
Science Applications International Corp. is not only one of the federal government's largest contractors - with more 17,000 Washington area employees, it is the region's fourth-largest private employer.
FULL POST