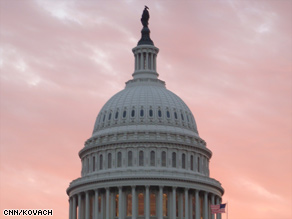 The CNN Washington Bureau's morning speed read of the top stories making news from around the country and the world.
WASHINGTON/POLITICAL
For the latest political news: www.CNNPolitics.com.
CNN: King: Confirmation drama and a test for nervous Democrats
The Sonia Sotomayor confirmation hearings for a seat on the Supreme Court will dominate the Washington stage this week, but just as important to this president's agenda will be the "Off Broadway" maneuverings in an increasingly murky health care reform debate.
CNN: Sotomayor's confirmation hearing starts Monday
After weeks of meeting senators and preparing for tough questions, Sonia Sotomayor on Monday begins the formal hearings on her nomination to become the nation's first Hispanic Supreme Court justice.
CNN: Senator: Cheney and alleged secret CIA program 'a problem'
CIA Director Leon Panetta testified to a congressional committee that he was told former Vice President Dick Cheney ordered the intelligence agency to withhold information about a secret counterterrorism program from Congress, the chairman of the Senate Intelligence Committee said Sunday.
CNN: Bush-era wiretap program had limited results, report finds
Federal agents found much of the information produced by the Bush administration's top-secret warrantless surveillance program vague and difficult to use, a sweeping review of the program found.
CNN: Obama orders review of alleged slayings of Taliban in Bush era
President Obama has ordered national security officials to look into allegations that the Bush administration resisted efforts to investigate a CIA-backed Afghan warlord over the killings of hundreds of Taliban prisoners in 2001.
CNN: Raising taxes at center of health care reform debate
Republicans and Democrats continued to spar Sunday over how to pay for health care reform.
CNN: Source: Holder considers prosecutor to probe interrogations
Attorney General Eric Holder is leaning toward appointing a prosecutor to investigate the Bush administration's interrogation practices, a source familiar with the process confirmed to CNN.
CNN: Dem: Withholding info from Congress 'a serious breach'
A day after reports that former Vice President Cheney instructed the Central Intelligence Agency not to share with Congress information about a specific intelligence program, Republicans are attempting to downplay a possible violation of the laws governing intelligence gathering while Democrats are attempting to sound an alarm about the possibility of Congress being denied critical information affecting national security.
CNN: Latest ethics complaints should be 'a wake-up call,' Palin says
The two new ethics complaints filed against Alaska Gov. Sarah Palin in the past week should be 'a wake-up call,' the former Republican vice presidential candidate says.
NYT: Palin's Route to Resignation: Missteps and Ignored Advice
In late March, a senior official from the Republican Governors Association headed for Alaska on a secret mission. Sarah Palin was beset by such political and personal turmoil that some powerful supporters determined an intervention was needed to pull her governorship, and her national future, back from the brink.
LA Times: Republican pundits open fire on Sarah Palin
Since announcing her resignation, Alaska Gov. Sarah Palin has been pummeled by critics who have called her incoherent, a quitter, a joke and a "political train wreck."
Washington Post: Full Family Circle
The entire population of Labadi and Labone, poor neighborhoods on the outskirts of this capital city's center, seemed to be flowing in one direction. Everyone was scurrying toward a single local landmark - a two-story yam-colored building: La General Hospital. The president of the United States and first lady Michelle Obama were due to arrive there in a few hours on Saturday morning.
NATIONAL
For the latest national news: www.CNN.com.
CNN: Shuttle launch scrubbed for second straight day
NASA on Sunday postponed the launch of space shuttle Endeavour for the second straight day due to concerns over weather.
CNN: Swim club offers olive branch after racism allegations
A suburban Philadelphia swim club has invited children from a largely minority day-care center to come back after a June reversal that fueled allegations of racism against the club, a spokeswoman said Sunday.
CNN: Two arrests for murder in killing of Gulf Coast couple
Investigators announced two murder arrests late Sunday in the killings of a Gulf Coast couple known for adopting special-needs children, a case that the local sheriff says has become increasingly "multi-faceted."
CNN: Study recommends total ban on smoking for soldiers
You've seen the iconic picture of a soldier with a cigarette dangling from his mouth, but that could soon be a thing of the past.
Boston Globe: Patrick accuses zoo officials of scare tactics
Governor Deval Patrick yesterday accused Zoo New England officials of creating a false and inflammatory scare with their warning that state budget cuts may force them to close two Greater Boston zoos and euthanize some animals.
LA Times: Marking the 50th anniversary of the first U.S. nuclear meltdown
On the morning of July 14, 1959, Sodium Reactor Experiment trainee John Pace received the bad news from a group of supervisors who had, he recalled, "terribly worried expressions on their faces."
Bloomberg: Obama's Jobless Safety Net Torn by Rebecca Alvarez
Rebecca Alvarez says she's "barely hanging on."
Denver Post: Colorado hospitals fight inner demons
A frightening outbreak of hepatitis C linked to a hospital surgical tech who stole patients' painkillers and left behind her dirty syringes is already among the worst cases of its kind in the country.
Fort Worth Star-Telegram: Iraqi journalist has second thoughts about resettling in U.S.
He arrived 2 1/2 weeks ago, with a heavy suitcase and years of pent-up hopes and dreams.
San Francisco Chronicle: Youth hit hard by lack of jobs, school grants
Jordan Atkinson had all the trappings of a typical Marin County childhood. He lived in a big house in Novato, played Pop Warner football, spent weekends with friends listening to hip-hop.
INTERNATIONAL
For the latest international news: http://edition.cnn.com/
CNN: Roadside bomb misses U.S. ambassador to Iraq
The U.S. ambassador to Iraq escaped unharmed from a roadside bomb that targeted his convoy in a southern province, the U.S. Embassy said Sunday.
CNN: Wife held in boxing champ's killing in Brazil
Brazilian authorities detained the wife of former world boxing champion Arturo Gatti as a suspect in his killing, according to local reports.
CNN: Man's family learns of his death one month after Iran protests
An Iranian family learned of their 19-year-old son's death nearly a month after he was shot during a demonstration over the Islamic republic's disputed election results, an international human rights group said Sunday.
CNN: Troops willing to die to stop Iran unrest, general says
A top Iranian general said government troops are "ready to sacrifice our lives" rather than back down in the face of protests over June's disputed presidential election.
CNN: 4 killed, 32 wounded as 6 Baghdad churches bombed
At least four people were killed and 32 wounded as six Baghdad-area churches were bombed within 24 hours, officials told CNN.
CNN: Mexican police, soliders killed in multi-city attacks by drug gang
Coordinated attacks in at least eight Mexican cities killed three federal police officers and two soldiers Saturday in what officials are calling an unprecedented onslaught by drug gangs.
Times of London: Kim Jong Il 'has pancreatic cancer'
North Korea's supreme leader, Kim Jong Il, is suffering from cancer of the pancreas and is in danger of dying of the disease, South Korean television reported this morning, the latest and most specific in a series of reports on the dictator's health.
NYT: Tamils Now Languish in Sri Lanka Camps
When the piercing whistle and sharp thuds of artillery shells grew faint, S. Theventhran dashed to safety.
NYT: Fuse of Fear, Lit in China, Has Victims on 2 Sides
The lynch mob first set upon the lame Uighur shoeshine boy in the narrow alley, sticks and knives in hand. Then it turned to the two men working at the reception desk in the Light of Dawn hotel.
NYT: Candidate Declares Iran May Face 'Disintegration'
In an implicit rebuke to Iran's ruling elite, a conservative presidential candidate warned Sunday that the political and social rifts opened by the disputed June 12 vote and subsequent crackdown could lead to the nation's "disintegration" if they were not resolved soon.
Telegraph: Afghanistan: Gordon Brown criticised after the death of eight soldiers
The opposition rounded on Gordon Brown after the deaths of eight British soldiers in Afghanistan and accused him of the ultimate dereliction of duty" in his handling of the conflict.
Washington Post: A Palestinian Technocrat Rises Steadily, but Questions Persist
Palestinian Authority Prime Minister Salam Fayyad is not a fighter by trade, but when control of the Gaza Strip fell to the Islamist Hamas movement two years ago, he sensed the need to learn fast.
Washington Post: Iran's Invisible Nicaragua Embassy
For months, the reports percolated in Washington and other capitals. Iran was constructing a major beachhead in Nicaragua as part of a diplomatic push into Latin America, featuring huge investment deals, new embassies and even TV programming from the Islamic republic.
McClatchy: McChrystal says he won't pull punches on Afghan proposals
The top U.S. commander in Afghanistan said Sunday that when he gives his assessment to the Obama administration next month of what is needed to defeat the Taliban, he won't be deterred by administration statements that he cannot have more U.S. troops.
BBC: Pakistan Swat valley roads reopen
The Pakistani military is reopening roads into the conflict-hit Swat valley and neighbouring regions.
BUSINESS
For the latest business news: www.CNNMoney.com.
CNN: Uh oh. Here come the 'profit' reports
The spring stock market rally has lost momentum right as investors are primed to face another big hurdle: the start of the second-quarter reporting period.
NYT: China Rattles Investors With Detentions of Executives
On July 5, officials from China's Ministry of State Security took four employees of the Anglo-Australian mining giant Rio Tinto into custody here.
Wall Street Journal: UBS, U.S. Talk on Tax Case
UBS AG and the governments of the U.S. and Switzerland are deep in talks to settle a major tax-evasion case that could require the Swiss bank to reveal some - but not all - of the 52,000 or so account-holder names the U.S. has sought, according to people familiar with the matter.
In Case You Missed It
To watch the latest interviews and reporting: http://www.cnn.com/video.
CNN: Bees check into hotel
CNN's Errol Barnett gets close to 50,000 bees calling a luxury hotel home in London, England.
CNN: Debate at a diner
John King discusses the harsh realities of a tough job market with folks at Howard's diner in San Francisco, California.
CNN: Turning tech green
As our dependence on technology grows, so does our energy usage. CNN's Andrew Stevens reports.
Subscribe to the CNN=Politics DAILY podcast at http://www.cnn.com/politicalpodcast.
And now stay posted on the latest from the campaign trail by downloading the CNN=Politics SCREENSAVER at http://www.CNN.com/situationroom.