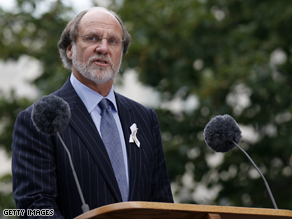 Corzine trails in polls as Obama is set to visit.
(CNN) - A new poll of likely voters in New Jersey indicates that Republican gubernatorial candidate Chris Christie has a eight point lead over the incumbent, Democratic Governor Jon Corzine. The Monmouth University/Gannett New Jersey survey also suggests that a helping hand today by President Barack Obama may not provide a lot of help to Corzine.
Forty-five percent of people questioned in the poll, released Thursday, say if the election for governor were held today, they'd vote for Christie, a former federal prosecutor. Thirty-seven percent would back Corzine, the Democratic incumbent who's battling for a second term, and four percent would vote for Independent candidate Christopher Daggett.
The current poll closely matches the results of a Quinnipiac University survey of likely New Jersey voters released Tuesday, which indicated that Christie holds a nine point lead over Corzine in a three person race including Daggett.
The Monmouth poll indicates that only 54 percent of likely voters have definitely made up their minds on which candidate they'll support in the Garden State's November election for governor.
"New Jersey voters have a reputation of remaining undecided until very late in the campaign," says CNN Polling Director Keating Holland. "If we see that same pattern this year, there will be a lot of persuadable voters up for grabs well into October."
The president teams up with Corzine at a campaign rally today. Although Obama has headlined seven political fundraising events this year, this will be the first campaign rally he's attended for a fellow Democrat since his January inauguration. The Monmouth poll indicates that 59 percent of New Jersey voters approve of the job Obama's doing as president. But three out of four likely voters questioned say their vote for governor will be based solely on state and local issues and seven out of ten say that having Obama actively campaign for Corzine would have no effect on their vote.
"Jon Corzine is not doing as well among Democrats as he would like at this point," says Monmouth University Polling Director Patrick Murray. "The Obama visit is meant to link the fortunes of these two men in the minds of voters who already have a high opinion of the president, but are unenthusiastic about their governor and might sit out this race."
The Monmouth University/Gannett New Jersey poll was conducted July 9-14, with 792 New Jersey voters and 527 likely voters questioned by telephone. The survey's sampling error is plus or minus 3.5 percentage points for the overall sample and plus or minus 4.3 percentage points for likley voters.