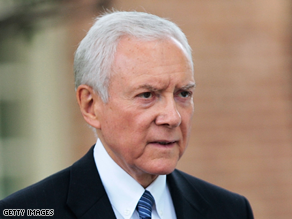 Sen. Orrin Hatch withdrew from bipartisan health care talks on Wednesday.
WASHINGTON (CNN) - A key Republican quit bipartisan health care talks Wednesday, saying he has major disagreements with direction the talks are taking.
"I decided to withdraw because I'm having difficulty with the high costs of a number of the provisions that I think they're ultimately going to come up with," Sen. Orrin Hatch of Utah told CNN. "Right now, with some of the provisions that I know they are going to have to put in there, I just can't agree with them."
Hatch's decision is a blow - although not likely a fatal one - to the talks among a group of Democrats and Republicans on the Senate Finance Committee. The talks are widely considered the most likely place a bipartisan compromise on a health care overhaul could be reached.
In quitting the talks, Hatch cited his opposition to a number of key issues that have been part of the talks for weeks. Specifically, he objects to policies that would require employers to pay for health insurance for their employees, mandate that all Americans buy insurance, and expand the Medicaid program, which, he said, would hurt the financially strapped states.
He criticized the nearly $1 trillion price tag as too high and opposes the methods the group is developing to pay for the bill.
Hatch also said he is concerned that whatever agreement is reached by the bipartisan group will become more liberal when it is merged with the House bill.
Hatch, a conservative, has taken part in the talks for weeks. His attendance dropped off last week so he could participate in the Supreme Court confirmation hearings for Judge Sonia Sotomayor. He told the leader of the talks, Finance Committee Chairman Max Baucus, D-Montana, of his decision to step away from the group while walking to a Senate vote Wednesday afternoon.
"Frankly, I have different view points on a number of things and I just don't want to mislead anybody," Hatch said. "So I told Max that it would probably be better if I don't come right now."