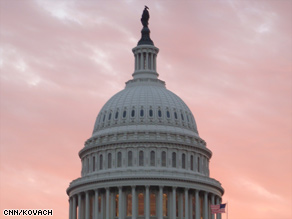 The CNN Washington Bureau's morning speed read of the top stories making news from around the country and the world.
WASHINGTON/POLITICAL
For the latest political news: www.CNNPolitics.com.
CNN: Obama: Health care reform means changes in treatment for the better
President Obama said Wednesday he was unable to guarantee that health care reform won't change how Americans get medical treatment, but he said any changes would be necessary and positive.
CNN: Health care debate shifts to how much reform is needed
President Obama prepared to take his push for health care reform to the American people in a Wednesday night news conference, with the debate focusing on how much overhaul is needed.
CNN: Gergen: A steep climb for Obama
Heading toward a showdown on his top domestic priority — and possibly the linchpin to his presidency — Barack Obama carries two handicaps into his prime time press conference tonight.
CNN: Pelosi vows to move ahead on health care
Speaker Nancy Pelosi said Wednesday she intends to move forward with a vote on health care reform this summer and indicated Democrats may keep the House in session past its scheduled summer break if needed.
CNN: Anti-abortion congressmen take on health care legislation
The contentious health care reform debate intensified Wednesday as a bipartisan group of congressmen opposed to abortion pledged to fight any bill that fails to exclude the procedure from the scope of government-defined benefits.
CNN: Obama, al-Maliki cautiously optimistic about Iraq stability
President Obama and Iraqi Prime Minister Nuri al-Maliki voiced cautious optimism regarding the situation in Iraq Wednesday, noting greater stability and decreased violence as U.S. troops continue to cede control to their Iraqi counterparts.
CNN: Palin rejects allegations over legal defense fund
Outgoing Alaska Gov. Sarah Palin is rejecting allegations she broke state ethics laws by letting supporters set up a legal defense fund for her.
CNN: Advocates to push for electoral reforms prior to 2010 midterms
Armed with anecdotal evidence from thousands of calls placed to voter hotlines last year, a group of voting rights advocates will lobby Congress Thursday for changes to the federal laws relating to the nation's election administration systems.
CNN: DeMint fires back at 'false' DNC ad
Sen. Jim DeMint sharply responded to a Democratic National Committee ad Wednesday that criticized the South Carolina Republican for stating that defeating President Obama's health care plan "will be his Waterloo."
CNN: Obama admin releases list of health care execs to visit WH
Just hours before President Obama is set to promote his health care plan in a primetime address, the White House released a list of 13 health care industry CEOs and lobbyists who have visited the White House since the president took office.
CNN: Intelligence chief defends delay in government's interrogation review
The nation's chief intelligence official says the Obama administration moved back the deadline of its review of the government's terrorist detention and interrogation policies because it wants to get it right.
Washington Post: Employers Are Far From Unified Against Overhaul
Even as the national business lobby ramps up its opposition to health-care reform, there are signs that employers around the country are divided on the issue, reducing the force of an opposition push.
Washington Post: Research Firm Cited by GOP Is Owned by Health Insurer
The political battle over health-care reform is waged largely with numbers, and few number-crunchers have shaped the debate as much as the Lewin Group, a consulting firm whose research has been widely cited by opponents of a public insurance option.
Washington Post: Murtha, 12 Colleagues Back a Murky $160 Million Request
Tucked into the voluminous congressional plan for U.S. military spending next year is $160 million intended to help Mexico's police buy U.S.-made first-responder radios.
Roll Call: Democrats Tire of Baucus Talks
Senate Democrats are increasingly frustrated by the secrecy and duration of Finance Chairman Max Baucus' (D-Mont.) bipartisan talks on health care reform, with some saying it could undermine Democratic support for the bill.
NATIONAL
For the latest national news: www.CNN.com.
CNN: U.S. trials for H1N1 vaccine announced
In a race to beat the flu season, medical institutes across the United States will begin human trials for a new H1N1 flu vaccine starting in early August, the University of Maryland announced Wednesday.
CNN: Lawyer: Manslaughter evidence sought at Jackson doctor's office
Detectives searched the Houston, Texas, medical office of one of Michael Jackson's doctors on Wednesday for "evidence of the offense of manslaughter," the doctor's lawyer said.
CNN: Obama: Police who arrested professor 'acted stupidly'
President Obama said that police in Cambridge, Massachusetts, "acted stupidly" in arresting a prominent black Harvard professor last week after a confrontation at the man's home.
CNN: Judge rules FDNY exams discriminated against minorities
A federal judge ruled Wednesday that the New York City Fire Department used recruitment exams that discriminated against African-American and Hispanic applicants.
CNN: FDA and health experts warn against use of e-cigarettes
The U.S. Food and Drug Administration announced Wednesday that laboratory tests on popular smoking devices known as electronic cigarettes have found they contain carcinogens and other toxic chemicals dangerous to humans.
CNN: Principal's tough love, high expectations gets kids into college
Principal Steve Perry doesn't believe in cursory inspections. For him, every single detail matters. T's are always crossed, I's are always dotted. Shirts are always buttoned and tucked in.
CNN: Fort Lewis shooting leaves 2 dead
A man at a Fort Lewis army post on Wednesday fatally shot a woman before turning the gun on himself, military authorities said.
CNN: Shark rides train, ends up dead in Miami street
Something fishy's going on in Miami, and police and Florida wildlife officials said they're trying to get to the bottom of it.
Wall Street Journal: U.S. Citizen Admits al Qaeda Ties
A U.S. citizen pleaded guilty earlier this year to attempting to kill American soldiers overseas and providing material support to al Qaeda, including information about the New York transit system, according to court documents unsealed Wednesday in Brooklyn federal court.
New York Times: Summer Camp '09: A Swim, a Cough, a Quarantine
Parents who arrived for visiting day on Sunday at Camp Matoaka in Smithfield, Me., got a tiny bottle of Purell, and at lunch, the serving staff wore masks and gloves.
New York Times: A Future in Baseball, Hinging on DNA
Baseball scouts are agog over Miguel Sano's hands — strong, supple and deft. But he still had to place them under a bone-scan machine, just in case.
New York Times: Marijuana Supporters Welcome a Tax Increase
Perhaps only in the sometimes hazy world of medical marijuana could higher taxes be considered good news.
New York Times: Va. Tech Gunman's Mental Health Records Found
The mental health records of the gunman in the Virginia Tech massacre, which could not be found during the investigation into the 2007 shooting, have been discovered in the home of the former director of the university's counseling clinic, Gov. Tim Kaine said Wednesday.
USA TODAY: Report wants life without parole abolished
A record 140,610 inmates in state and federal prisons are serving life sentences and nearly one-third of those have no possibility of parole, according to a criminal justice research group that supports alternatives to incarceration.
INTERNATIONAL
For the latest international news: http://edition.cnn.com/
CNN: Iran: Supreme leader seeks top deputy's dismissal
Iran's supreme leader believes the country's president should dismiss the top vice president, whose recent appointment has drawn criticism from conservatives, semi-official media reported Wednesday.
CNN: New Honduran proposal on table
Costa Rican President Oscar Arias presented an updated proposal to end the Honduran political crisis, but its adoption seemed unlikely, as one side described the talks as "failed" and the other asked for more time.
CNN: Alleged Saudi human rights abuses highlighted
Saudi Arabia's campaign against the al Qaeda terrorist network has led to "massive human rights violations" by security forces, including torture and the arrests of non-violent reformists, the human rights group Amnesty International reported Tuesday.
CNN: Mumbai gunman suspect 'ready to die'
The alleged gunman captured alive during last year's Mumbai terror attacks told an Indian court Wednesday that he was ready to face execution.
CNN: Official: One of Osama bin Laden's sons believed dead
A U.S. counterterrorism official says Saad bin Laden, one of the sons of Osama bin Laden, was probably killed earlier this year in Pakistan.
CNN: Ukraine general arrested in decapitation case
A Ukrainian general has been arrested in connection with the murder of a journalist nearly nine years ago, the country's president said Wednesday.
New York Times: Strategic Aims, Not Abuses, Are U.S. Focus in Kyrgyzstan
"You know what this is for," Emilbek Kaptagaev recalled being told by the police officers who snatched him off the street. No other words, just blows to the head, then all went black. Mr. Kaptagaev, an opponent of Kyrgyzstan's president, who is a vital American ally in the war in nearby Afghanistan, was found later in a field with a concussion, broken ribs and a face swollen into a mosaic of bruises.
New York Times: Court Redraws Disputed Area in Sudan
An international tribunal redefined the borders of a disputed oil-rich region between north and south Sudan on Wednesday. The ruling seeks to defuse a thorny issue in the 2005 peace agreement ending one of Africa's longest civil wars by splitting the contested zone between the two sides.
New York Times: Biden Hears Georgia's Plea for Western Protection
Tbilisi greeted Vice President Joseph R. Biden Jr. as a hero on Wednesday, and President Mikheil Saakashvili made a passionate plea to the West to help defend his country against Russian forces in its separatist territories, at one point comparing Georgia's refugee crisis to Darfur's.
Washington Post: Pakistan Seeks More U.S. Military Aid
Pakistani Prime Minister Yousaf Raza Gillani on Wednesday called on the United States to provide real-time intelligence, unmanned aircraft technology and other military assistance to help his country combat the Taliban without relying on attacks from U.S. drones.
Wall Street Journal: Top Kurdish Parties Face Poll Challenge
The two political parties that have long dominated life in Iraq's semiautonomous Kurdish enclave are facing their first real challenge in years as they head into elections this weekend.
LA Times: Afghan kids find skateboards the wheel deal
A white van pulled up to a concrete fountain on a leafy side street in downtown Kabul, trailed by shrieking Afghan children.
McClatchy: Report: Big cuts needed at huge Baghdad embassy built by Bush
The U.S. Embassy in Iraq, the government's largest overseas diplomatic mission, is significantly overstaffed and needs to be downsized to reflect the reduced American role in the country, according to a new State Department report.
BUSINESS
For the latest business news: www.CNNMoney.com.
CNNMoney: Senior workers delay retirement
Retirement dreams are quickly fading for thousands of older workers, as the severe market losses that ravaged once-healthy retirement accounts over the last year force many seniors to work longer.
CNNMoney: Nasdaq posts 11th straight gain
The Nasdaq gained for the 11th straight session Wednesday as investors welcomed Apple's profit results, but concerns about Boeing and Coca-Cola's profits dragged on the Dow.
CNNMoney: Fannie & Freddie: The most expensive bailout
The first big government bailout of the financial crisis - the takeover of mortgage finance giants Fannie Mae and Freddie Mac - is poised to be the most expensive and complicated to complete.
Washington Post: Wall St. Jacks Up Pay After Bailouts
Wall Street's biggest banks are setting aside billions of dollars more to pay their executives and other employees just months after these firms were rescued with a taxpayer bailout, renewing questions about compensation practices in the aftermath of the financial crisis.
Wall Street Journal: Obama Proposes New Transaction Fees for Financial Firms' Riskiest Investments
President Barack Obama said for the first time that the government might assess new fees against financial companies engaging in what he labeled "far-out transactions," in order to protect taxpayers from future bailouts.
In Case You Missed It
To watch the latest interviews and reporting: http://www.cnn.com/video.
CNN: Missing men end up in war
Some young men who disappear from the U.S. resurface as insurgents in Somalia. CNN's Brian Todd reports.
CNN: Taco Bell dog dies
The Taco Bell Chihuahua dies of a massive stroke. CNN's Jeanne Moos says adios with career highlights.
CNN: Maya Angelou inspires young poet
Soledad O?Brien moves student to tears by giving her a signed copy of ?And Still I Rise?
Subscribe to the CNN=Politics DAILY podcast at http://www.cnn.com/politicalpodcast.
And now stay posted on the latest from the campaign trail by downloading the CNN=Politics SCREENSAVER at http://www.CNN.com/situationroom.