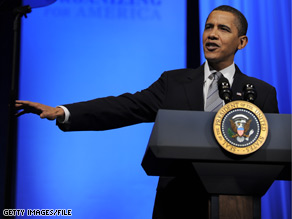 President Obama will attend two fundraisers for the DNC Thursday night in Chicago.
WASHINGTON (CNN) - President Obama heads home tonight to raise some big bucks for his party.
The two Chicago events, a dinner and a reception, could bring in some $2-3 million for the Democratic National Committee.
A party source says Gen44, a new effort by the DNC to engage professionals who became active in politics during the 2008 presidential campaign, will be formally launched at the reception.
Among those expected in attendance tonight are Chicago Bears head coach Lovie Smith and quarterback Jay Cutler.
Last Thursday, the president attended two small fundraisers for the DNC in New Jersey and New York. He also headlined a fundraiser and a rally for fellow Democrat Jon Corzine, who's up for re-election this year as New Jersey governor.