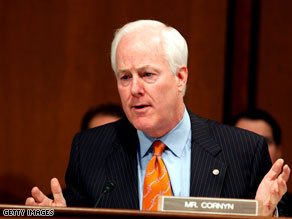 Sen. John Cornyn said Friday that he would vote no to confirm Sonia Sotomayor to the Supreme Court.
(CNN) - Texas Republican John Cornyn, a member of the Senate Judiciary Committee, announced Friday he would vote no to confirm Supreme Court nominee Sonia Sotomayor.
The former Texas State Supreme Court justice questioned Sotomayor's "objectivity and neutrality" given a string of court rulings and her past statements.
"I went into the hearing with an open mind. I felt she deserved the opportunity to explain how she approached some of the most controversial cases on which she's ruled and put her public statements in context," he said.
"At the end of the hearing I found myself wondering who is the real Judge Sonia Sotomayor," Cornyn said.
Earlier in the week, South Carolina Republican Lindsey Graham became the first Republican on the Senate Judiciary Committee to announce he would support Sotomayor. In all, five Republicans have said they will vote to confirm Obama's choice for the high court.