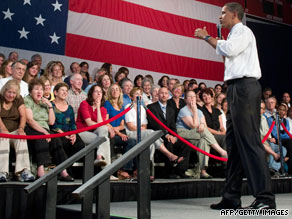 President Obama tells audience in Shaker Heights, Ohio, on Thursday that current system breeds wasteful spending.
WASHINGTON (CNN) - The Obama administration is touting a provocative proposal to give a medical advisory council the power to help decide the scope of coverage that would be eligible for reimbursement under Medicare.
Administration officials say the proposed council would improve health care quality and control costs. But some health care industry groups object to the proposal, saying such a council would not be qualified to make those judgments.
This council would consist of doctors and health care experts who make recommendations based on extensive data and analysis of best health care practices, according to administration officials.
Proponents believe the approach would improve care and eliminate some wasteful spending by doctors who are now paid separately for each visit and procedure they authorize. Instead, this council could recommend, for example, a comprehensive approach to treat a patient with chronic heart condition or high cholesterol.