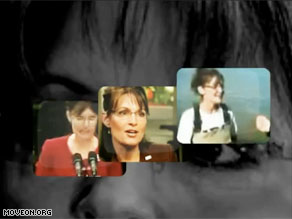 MoveOn is targeting Palin in a new ad.
WASHINGTON (CNN) - Sarah Palin's out of office, but she's still in the crosshairs: a new MoveOn ad released the day after she officially stepped down takes aim at the former Alaska governor over her stand on President Obama's energy bill.
"Now that Palin has more free time, she has a new pet project, standing in the way of millions of new American green jobs," says the narrator in the 30-second spot.
Two weeks ago, Palin penned a Washington Post op-ed criticizing the president's position on "cap-and-trade" legislation. MoveOn began fundraising for an ad campaign against her just hours after the piece was published, but didn't launch the 30-second spot until Monday.