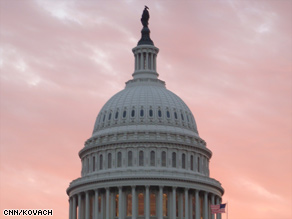 The CNN Washington Bureau's morning speed read of the top stories making news from around the country and the world.
WASHINGTON/POLITICAL
For the latest political news: www.CNNPolitics.com.
CNN: King: What will triumph in health care push - reform or recess?
Something old and something new to watch this week: The continuing - some say languishing - health care debate, and the launch of the "Cash for Clunkers" program designed to improve the nation's fuel efficiency, not to mention Detroit's bottom line.
CNN: King: Uninsured 23-year-old battles leukemia, medical bills
To begin with, Gregory Rose didn't have health insurance. Plus, it was finals week. So his first instinct was to ignore the pain.
CNN: GOP ratchets up health care reform debate
As Democrats continue to splinter over President Obama's proposed health care reform plan, Republicans are taking the opportunity to home in on a key argument: A good bill deserves more time and deliberation.
CNN: Conrad: Dems lack votes to pass health care reform on their own
A key Democratic senator in health care reform negotiations said Sunday that his party lacks the votes to pass a bill through Congress on its own.
CNN: Palin steps down as Alaska governor
Former vice presidential candidate Sarah Palin gave her final speech as Alaska's governor Sunday before stepping down from her post, telling a Fairbanks crowd that she is resigning "to chart a new course to advance the state."
CNN: Palin's second picnic draws supporters, few dissenters
Alaska Gov. Sarah Palin was met with a fairly warm reception at a picnic in Anchorage on Saturday, a day before she steps down as the state's governor.
CNN: Republican: Palin is another Huckabee
It looks like Alaska Gov. Sarah Palin may have one less fan.
CNN: Clinton: Obama has proven his toughness, international savvy
Hillary Clinton is convinced. After questioning Barack Obama's international savvy and toughness while campaigning against him last year, the secretary of state said Sunday she has seen plenty of both from the president so far.