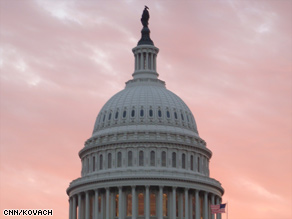 The CNN Washington Bureau's morning speed read of the top stories making news from around the country and the world.
WASHINGTON/POLITICAL
For the latest political news: www.CNNPolitics.com.
CNN: Obama: No reduced Medicare benefits in health care reform
President Obama tried Tuesday to alleviate senior citizens' concerns about health care reform, saying his plan will maintain Medicare benefits and allow people to keep the coverage and doctors they now have.
CNN: Dems deny deciding not to hold health care vote before recess
A House Republican leadership aide is forwarding a memo written and distributed by a GOP House staffer, saying he has been informed by the House Democratic leadership they plan to leave for the August recess Friday without bringing health care reform to the floor, but Democratic leaders vehemently deny that decision has been made.
CNN: Powell: Both Gates, police could have handled things better
Former Secretary of State Colin Powell said Tuesday that he has been the victim of racial profiling but believes Harvard professor Henry Louis Gates Jr. could have been more patient with the police officer who arrested him.
CNN: Senate Judiciary Committee votes to confirm Sotomayor
The Senate Judiciary Committee on Tuesday approved the nomination of federal Judge Sonia Sotomayor to become the nation's first Hispanic Supreme Court justice, setting up a final confirmation vote by the Senate.
CNN: U.S. to provide $1 billion to hire cops
The federal government will give $1 billion in grants to law enforcement agencies in every state to pay for the hiring and rehiring of law enforcement officers, Vice President Joe Biden and Attorney General Eric Holder announced Tuesday.
CNN: Senate pages suspected of contracting swine flu
Six high school-aged Senate pages are sick with flu symptoms that could be the H1N1 swine flu, but doctors are "not overly concerned" about an outbreak of the virus on Capitol Hill, Senate Sgt. at Arms Terry Gainer told CNN Wednesday.
CNN: Poll shows plurality of Americans want Palin to stay home
As former Alaska Gov. Sarah Palin prepares to launch the next step of her political career, a new survey suggests nearly one in three Americans think it'd be best if the onetime GOP vice presidential candidate stayed home — and one in five would like to see her on another presidential ticket.
CNN: Voinovich: The GOP's 'being taken over by Southerners'
Republican Sen. George Voinovich, who is not running for re-election next year, told a newspaper in his home state of Ohio yesterday that Southerners bore a good share of the blame for his party's lagging popularity.
CNN: Pawlenty wades into national issue, takes swipe at potential rival
One day after assuming a leadership post in the Republican Governor's Association, Minnesota Gov. Tim Pawlenty is staking his opposition to the congressional Democrats' health care reform plan while taking an indirect swipe at a potential future presidential rival.
CNNMoney: U.S. to mortgage firms: Pick up the pace
Loan servicers will "significantly" increase the pace of mortgage modifications under the Obama foreclosure prevention program, the Treasury Department said Tuesday.
ABC News: Harvard Prof Gates Is Half-Irish, Related to Cop Who Arrested Him
Henry Louis Gates Jr., the black professor at the center of the racial story involving his arrest outside his Harvard University-owned house, has spoken proudly of his Irish roots. Strangely enough, he and the Cambridge, Mass., police officer who arrested him, Sgt. James Crowley, both trace their ancestry back to the legendary Niall of the Nine Hostages.
New York Times: How Firms Wooed a U.S. Agency With Billions to Invest
As a New York money manager and investment banker at four Wall Street firms, Charles E. F. Millard never reached superstar status. But he was treated like one when he arrived in Washington in May 2007, to run the Pension Benefit Guaranty Corporation, the federal agency that oversees $50 billion in retirement funds.
New York Times: Obama Faces Court Test Over Detainee
The fate of one of the youngest detainees at the Guantánamo Bay prison is emerging as a major test of whether the courts or the president has the final authority over when prisoners there are released.
Washington Post: The House Gets a Dose Of Its Own Medicine
They held the tutorial in the Capitol basement. The leadership had set aside five hours, from 4 to 9 p.m. Monday, with one break for procedural votes upstairs. For the first 2 1/2 hours, about 180 members of Congress had to do something for which they have limited affinity: Remain speechless. Sit still in a folding chair. Listen to staffers. They couldn't even ask questions but only jot them down for discussion later in the evening.
Wall Street Journal: In a Savings Shocker, the Government Discovers That Paper Has Two Sides
With the budget deficit soaring toward $2 trillion, the Department of Justice has figured out how to play its part: double-sided photocopying.
Wall Street Journal: House Proposal Aims to Boost Airline Safety
A bipartisan group of lawmakers plans Wednesday to introduce legislation aimed at curbing pilot fatigue and beefing up training, as part of a far-reaching bid to improve airline safety.
NATIONAL
For the latest national news: www.CNN.com.
CNN: 8th suspect sought in North Carolina 'jihad' case
Federal authorities are searching for an eighth alleged member of a North Carolina group that authorities say plotted "violent jihad" overseas, prosecutors said Tuesday.
CNN: Request for more troops in Afghanistan likely, source says
The top U.S. commander in Afghanistan is expected to ask the Obama administration for additional troops and equipment, according to a senior U.S. military official familiar with Gen. Stanley McChrystal's thinking.
CNN: Claims against contractor dismissed in soldier's death
Judges in Texas and Florida have dropped military contractor KBR from lawsuits brought by the family of a soldier who was electrocuted in Iraq, the company announced Tuesday.
CNN: Strip clubs, marijuana eyed during budget crunch
With their budgets teetering on bankruptcy, states are digging deep to find creative ways to ease their financial woes.
CNN: Military planning for possible H1N1 outbreak
The U.S. military wants to establish regional teams of military personnel to assist civilian authorities in the event of a significant outbreak of the H1N1 virus this fall, according to Defense Department officials.
CNN: New Jersey mayor arrested in corruption investigation resigns
A New Jersey mayor who was one of 44 people arrested last week in a federal public corruption investigation resigned Tuesday, according to his attorney.
Washington Post: From Suburban D.C. Childhood To Indictment on Terror Charges
Daniel Patrick Boyd, once a defensive lineman at T.C. Williams High School, is an unlikely symbol of the homegrown terrorist threat. The son of a Marine, Boyd spent his early years in the Washington suburbs living a typical American childhood. Recently, he blended with his family into a picturesque suburb of Raleigh, N.C., where he gardened and was friendly with his neighbors.
USA Today: Tanning beds now listed among top cancer risks
International cancer experts have moved tanning beds and other sources of ultraviolet radiation into the top cancer risk category, deeming them as deadly as arsenic and mustard gas.
INTERNATIONAL
For the latest international news: http://edition.cnn.com/
CNN: Iraqi forces now calling the shots
As American soldiers now defer to Iraqi forces in their homeland, the six-year war has changed dramatically for the thousands of U.S. troops deployed to Iraq.
CNN: Nearly all British troops pulling out of Iraq
Almost all British troops in Iraq are being pulled out because the agreement that allows them to be there expires on Friday, the British Ministry of Defence said Tuesday.
CNN: Battles with militants kill hundreds in Nigeria, group says
More than 400 people have been killed in a spate of violence in northern Nigeria, the president of a human rights group said Tuesday.
CNN: Venezuela freezes relations with Colombia
Venezuelan President Hugo Chavez froze diplomatic relations with Colombia late Tuesday, citing verbal aggressions from the neighboring South American country.
CNN: U.S., China agree on economic strategies
Two days of high-level talks between the United States and China concluded with broad agreement on separate strategies to help their economies and the world emerge from the global recession.
CNN: Iran reportedly frees 140 jailed election protesters
The Iranian government has released 140 people arrested in the aftermath of the Islamic republic's disputed presidential election, a semi-official news agency reported Tuesday.
CNN: Violence hits Iranian refugee camp in Iraq
Members of an Iranian group designated a terrorist organization by the United States and Iran say Iraqi forces attacked their camp Tuesday evening, killing at least four unarmed people and injuring about 385.
CNN: Armstrong counters Contador criticism
Lance Armstrong has hit back at Tour de France winner Alberto Contador by describing the Spaniard's latest criticism of him as "drivel" on his Twitter feed.
New York Times: In Venezuela, Plantations of Cacao Stir Bitterness
Kai Rosenberg acknowledges that he might be a little insane. He owns a cacao plantation in this swath of untamed cloud forest in northern Venezuela, where ocelots dart under towering saman trees and howler monkeys shriek at visitors.
New York Times: China Puts Online Games That Glorify Mafia on Its Hit List
Whether it is religion, environmentalism or nonprofit charities, the Chinese government has always been wary of any organized activity it cannot directly control.
LA Times: Balkans' Pink Panther jewel thieves smash their way into myth
So let's get this straight. A guy in the raspberry business from western Serbia smashes and grabs his way through a heist eight time zones away in Tokyo and scoots off past shopping centers and sushi bars with a $31-million necklace known as the Countess of Vendome.
BUSINESS
For the latest business news: www.CNNMoney.com.
CNNMoney: Taxing the fat in your food
Health care costs keep growing fatter in part because Americans are, too.
CNNMoney: Microsoft and Yahoo strike deal – report
Microsoft and Yahoo have finally come to a search deal and will announce the details of the agreement in the next 24 hours, according to a report.
New York Times: Recovery Signs in Housing Market Stir Some Hope
After a plunge lasting three years, houses have finally become cheap enough to lure buyers. That, in turn, is stabilizing prices, generating hope that the real estate market is beginning to recover.
In Case You Missed It
To watch the latest interviews and reporting: http://www.cnn.com/video.
CNN: After US Army embed
CNN's Ivan Watson just finished an embed trip with the U.S. Army and is back in Kabul giving us the debrief.
CNN: Farmer saves $200,000 with poo power
Reynolds Wolf offers a look at a dairy farm that gets its electricity from cow poo.
Subscribe to the CNN=Politics DAILY podcast at http://www.cnn.com/politicalpodcast.
And now stay posted on the latest from the campaign trail by downloading the CNN=Politics SCREENSAVER at http://www.CNN.com/situationroom.