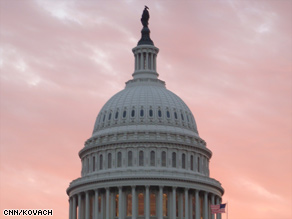 The CNN Washington Bureau's morning speed read of the top stories making news from around the country and the world.
WASHINGTON/POLITICAL
For the latest political news: www.CNNPolitics.com.
CNN: Senators: No health care deal until recess is over
Two of the three Senate Republicans negotiating a bipartisan deal on health care reform said they consider an agreement out of reach before the Senate goes on its August recess.
CNN: Lee raises 'concerns' over Blue Dog deal
The deal Democratic House leaders struck with a group of conservative Blue Dogs Democrats Wednesday was not embraced by one leading liberal House Democrat: Rep. Barbara Lee, D-California, chairwoman of the Congressional Black Caucus. "I have a lot of concerns," she told reporters Wednesday.
CNN: Obama mocks Newsweek cover, Newsweek hits back
Newsweek magazine got some unsolicited PR Wednesday from President Obama, but it wasn't exactly a ringing endorsement of periodical's latest issue.
CNN: Polls show Obama's approval continues to slip
Five national polls released Wednesday suggest Barack Obama's approval rating as president continues to slip.
CNN: Public's help needed in terror fight, Napolitano says
Almost eight years after the September 11 attacks, the American public remains insufficiently engaged in the fight against terrorism, the nation's homeland security chief warned Wednesday.
CNN: VA claims processing sees strides, setbacks, report says
The Veterans Administration's handling of disability claims has seen improvements and setbacks, a congressional watchdog said Wednesday.
CNN: Pawlenty increasing profile as he looks at 2012
Minnesota Gov. Tim Pawlenty will sharply criticize President Obama in a speech to national Republicans Thursday in what is being viewed as a step towards a potential presidential run in 2012.
CNN: Beer choice at Obama meeting touches off new debate
The upcoming White House meeting with Henry Louis Gates, Jr., and the Cambridge police officer who arrested him earlier this month appears to have touched off a fresh debate all on its own: what kind of beer should be served?
New York Times: Lucrative Fees May Deter Efforts to Alter Troubled Loans
This week, the Obama administration summoned mortgage company executives to Washington to demand they move faster to lower payments for homeowners sliding toward foreclosure. Treasury officials called on the companies to hire and train more people quickly to field applications for relief.
New York Times: Texas Hospital Flexing Muscle in Health Fight
One of the largest sources of campaign contributions to Senate Democrats during this year's health care debate is a physician-owned hospital in one of the country's poorest regions that has sought to soften measures that could choke its rapid growth.
Washington Post: House Seems To Be Set on Pork-Padded Defense Bill
The Democratic-controlled House is poised to give the Pentagon dozens of new ships, planes, helicopters and armored vehicles that Defense Secretary Robert M. Gates says the military does not need to fund next year, acting in many cases in response to defense industry pressures and campaign contributions under an approach he has decried as "business as usual" and vowed to help end.
Washington Post: Would Tax on Benefits Rein In Spending?
The heath-care bill that has been wending its way through the Senate Finance Committee is likely to contain a provision that President Obama opposed during his campaign: a tax on at least some employer-provided insurance plans.
Washington Post: Jefferson Was 'Stupid' but No Criminal, Defense Says
Former congressman William J. Jefferson was "stupid" and exercised "awful judgment" in stashing $90,000 in potential bribe money in his freezer, but his actions did not constitute a crime, defense attorneys said Wednesday during closing arguments in the Louisiana Democrat's corruption trial.
Wall Street Journal: Support Slips for Health Plan
Support for President Barack Obama's health-care effort has declined over the past five weeks, particularly among those who already have insurance, a Wall Street Journal/NBC News poll found, amid prolonged debate over costs and quality of care.
Wall Street Journal: Senate Probes Banks for Meltdown Fraud
A Senate panel has subpoenaed financial institutions, including Goldman Sachs Group Inc. and Deutsche Bank AG, seeking evidence of fraud in last year's mortgage-market meltdown, according to people familiar with the situation.
NATIONAL
For the latest national news: www.CNN.com.
CNN: Wife and mother of terror suspects says FBI tricked her
A woman whose husband and two sons are accused of plotting "violent jihad" overseas said federal authorities tricked her into leaving her home so they could search it.
CNN: Lawyer: Madoff thought 'gig was up' years ago
Convicted felon Bernie Madoff expected authorities to catch him years ago, a lawyer representing Madoff's victims said Wednesday.
CNN: Former Enron chief Skilling to be resentenced
Former Enron Corp. chief Jeffrey Skilling, convicted three years ago of fraud, is scheduled to be resentenced Thursday after a federal appeals court vacated his 24-year sentence earlier this year.
CNN: 'Cash for clunkers' buyers agree: Credit came at perfect time
Andrew Sable wasn't in the market for new wheels, but he says the federal "cash for clunkers" program helped him get an offer he couldn't refuse.
CNN: Arizona girl's attack sheds light on rape in Liberia
The allegation is shocking: an 8-year-old girl lured to a storage shed with the promise of chewing gum, pinned down and sexually assaulted by four boys, none of them older than 14.
CNN: 'Jungle monkey' e-mail jeopardizes Boston officer's job
A Boston, Massachusetts, police officer who sent a mass e-mail in which he referred to Harvard professor Henry Louis Gates Jr. as "banana-eating" and a "bumbling jungle monkey" has been placed on administrative leave and faces losing his job.
CNN: Caller in Gates case says she'd do it again
In her first public appearance, the woman who made the 911 call that led to the arrest of Harvard professor Henry Louis Gates Jr. said Wednesday she would make the call again if placed in the same situation.
CNN: Phelps sets world record after shock loss
Multiple Olympic champion Michael Phelps bounced back on Wednesday to set a world record in the 200 meters butterfly after suffering his first defeat in international competition in four years a day earlier at the world swimming championships in Rome.
New York Times: Stimulus Law Bolsters Food Bank Offerings
Struggling to meet a demand for food that spiked with the unemployment rate, some food pantries have had to turn away people seeking help. Others are packing a little less food into each shopping bag they give out. But recently the nation's food banks received a $100 million windfall of extra food, as part of the federal stimulus law.
New York Times: White Roofs Catch on as Energy Cost Cutters
Returning to their ranch-style house in Sacramento after a long summer workday, Jon and Kim Waldrep were routinely met by a wall of heat.
Washington Post: At Postal Service, A Plan for Survival
Lawmakers on Thursday will consider various proposals to restructure the U.S. Postal Service, just days after government auditors warned that it must quickly address its financial viability.
USA TODAY: U.S. may require anti-DWI locks on vehicles
A national campaign against first-time drunken-driving offenders is gaining ground as states and the federal government weigh mandatory use of devices requiring violators to prove their sobriety before their engines start.
INTERNATIONAL
For the latest international news: http://edition.cnn.com/
CNN: U.S., Britain: We're not deterred in Afghanistan
The United States and Britain said Wednesday they are committed to remaining in Afghanistan, despite increased military casualties and declining public support for the war effort.
CNN: Reports: 50 'political figures' among Iranian detainees
Among the hundreds of detainees arrested in the aftermath of Iran's disputed presidential election, there are 50 "political figures" accused of playing key roles in violent street demonstrations after the vote, Iranian media reported Wednesday.
CNN: Al Qaeda group said to claim Jakarta hotel bombings
A group claiming to be the Indonesian arm of the al Qaeda terrorist network is purportedly taking responsibility for a pair of deadly bombs that exploded within minutes of each other at two luxury hotels in Jakarta.
CNN: Fights with police at Iranian refugee camp leave 7 dead
Seven members of an exiled Iranian opposition group have been killed in clashes with Iraqi police at a refugee camp over the past two days, authorities said Wednesday.
CNN: Fight against Islamic militants forces Nigerians to flee
More than 2,500 Nigerians caught in the fighting between Islamic militants and government forces have fled their homes in the northern part of the country, a Red Cross spokeswoman said Wednesday.
CNN: Sudanese journalist could face flogging for wearing pants
A Sudanese journalist could receive 40 lashings after she was caught wearing trousers.
New York Times: Chinese Workers Say Illness Is Real, Not Hysteria
Tian Lihua was just beginning her morning shift when she felt a wave of nausea, then numbness in her limbs and finally dizziness that gave way to unconsciousness. In the days that followed, more than 1,200 fellow employees at the textile mill where Ms. Tian works would be felled by these and other symptoms, including convulsions, breathing difficulties, vomiting and temporary paralysis.
New York Times: West Bank Settlers Send Obama Defiant Message
In this land of endless history and ethereal beauty, several thousand Jewish settlers gathered on a dozen West Bank hills with makeshift huts and Israeli flags over several days this week to mark an invented anniversary and defy the American president, conveying to his aides visiting Jerusalem what they thought of his demand for a settlement freeze.
New York Times: Arrests of Sunni Leaders Rise in Baghdad
The Baghdad police still do not enter the hard-line Sunni neighborhood of Adhamiya, which continues to suffer an insurgent attack every couple of days.
Chicago Tribune: Not everyone comes home
The four-Humvee convoy bounced down the mountain road, one Afghan village blending into another on a routine mission for Delta Company of the Illinois National Guard. The troops were scouting for the best location to build a school.
CS Monitor: Arabs losing hope in Obama's ability to broker Mideast peace
Nearly two months after President Obama's historic address to the Muslim world from Cairo, his administration made a high-profile drive this week to shore up Arab and Israeli support for a comprehensive peace deal.
BBC: Russia to drill for oil off Cuba
Russia is to begin oil exploration in the Gulf of Mexico, after signing a deal with Cuba, says Cuban state media.
BUSINESS
For the latest business news: www.CNNMoney.com.
CNNMoney: How do you say 'bubble' in Mandarin?
Is the Chinese economy in the same state as the American economy was in the summer of 2007? In other words, all pumped up and ready to pop?
CNNMoney: Clunker confusion: MPG figures
Some car shoppers are finding that their trade-in vehicles, which qualified for a Cash for Clunkers rebate last week, don't this week because of changes in the EPA's fuel economy ratings.
Fortune: Treasury finally getting tough on banks
Don't look now, but the government has actually strung a couple modest victories together in its dealings with big banks.
New York Times: Microsoft and Yahoo Are Linked Up. Now What?
The bumpy, marathon mating dance between Microsoft and Yahoo finally concluded on Wednesday, when the two companies announced a partnership in Internet search and advertising to take on the industry powerhouse Google.
In Case You Missed It
To watch the latest interviews and reporting: http://www.cnn.com/video.
CNN: Indonesian slum tour
CNN's Arwa Damon joins a tour that takes foreigners into the 'real' parts of Jakarta – the slums.
CNN: Vet's traumatic brain injury
Family and friends gather for the funeral of a soldier whose invisible wounds became too much for him to bear.
Subscribe to the CNN=Politics DAILY podcast at http://www.cnn.com/politicalpodcast.
And now stay posted on the latest from the campaign trail by downloading the CNN=Politics SCREENSAVER at http://www.CNN.com/situationroom.