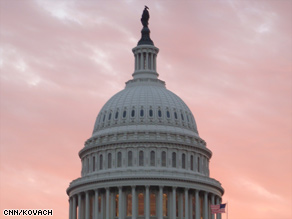 The CNN Washington Bureau's morning speed read of the top stories making news from around the country and the world.
WASHINGTON/POLITICAL
For the latest political news: www.CNNPolitics.com.
CNN: Obama, Biden, professor, officer sit down over brews
President Obama sat down for a beer at the White House Thursday night with a top African-American professor and the police officer who arrested him earlier this month.
CNN: GOP, Blue Dogs get health reform slowdown they wanted
A key Senate committee won't vote on its compromise health care overhaul plan before the upcoming month-long August recess, giving Republicans and some conservative Democrats their desired slowdown in congressional action on President Obama's top domestic priority.
CNN: Top Dems blame insurance industry as health care roadblock
As Congress prepares to head into a monthlong August recess, Democratic leaders on Capitol Hill ripped into the insurance industry, framing the health care debate as a battle against insurers.
CNN: Pelosi agrees to key aspect of health care deal
House Speaker Nancy Pelosi signed off Thursday on a key component of a health care deal reached with conservative Democrats earlier in the week, potentially paving the way for a new consensus among the fractured House majority.
CNN: Palin not attending California event
Despite an earlier announcement from a California Republican womens group, former Alaska Governor Sarah Palin will not be speaking to an event sponsored by the group scheduled for next weekend at the Ronald Reagan Presidential Library, a spokeswoman for her political action committee said Thursday night.
CNN: Poll of Polls: President's approval ratings slip
It's late July, a time for hot and humid weather in the nation's capital. But when it comes to President Barack Obama's approval rating, an average of the most recent national surveys indicates a cooling trend.
CNN: Obama's weapon: A dose of homecoming king charm
As President Obama pushes forward with his agenda, he may find that a homecoming king's likeability is just as integral as the power and authority inherent to the Oval Office.
CNN: New Jersey mayor set to resign over corruption probe
A mayor in New Jersey is expected to announce his resignation Friday in connection with a state corruption scandal.
CNN: The GOP's fresh face from Minnesota
Minnesota Gov. Tim Pawlenty sharply criticized President Obama on issues ranging from health care reform to foreign policy Thursday, urging Republicans to challenge the president in a speech that was seen as a step toward a possible presidential run in 2012.
CNN: Obama's former doctor critical of White House health care plan
President Obama often talks about all of the forces lining up against his health care plan. But there's one critic who has remained relatively mum in the debate.
CNN: Sixteen to get Presidential Medal of Freedom
The White House announced Thursday the 16 recipients of this year's Presidential Medal of Freedom, who include researchers, activists and athletes.

New York Times: In House, Freshman Democrats Make a Stand
It took Representative Dan Maffei of New York two tries, $4 million and the retirement of a Republican incumbent to win his House seat last year. After all that, he wants to avoid becoming a one-term wonder because of an unpopular vote on health care.
New York Times: Rove Says His Role in Prosecutor Firings Was Small
Karl Rove, addressing the dismissal of federal prosecutors in 2006 when he was a top adviser to President George W. Bush, said in a recent interview that he had sought status reports about vacancies in prosecutors' offices, pushed subordinates to find a job for a former deputy and monitored plans for dismissals as they evolved after Mr. Bush's re-election in 2004.
Washington Post: Industry Is Generous To Influential Bloc
On June 19, Rep. Mike Ross of Arkansas made clear that he and a group of other conservative Democrats known as the Blue Dogs were increasingly unhappy with the direction that health-care legislation was taking in the House.
Washington Post: Detention Challenges Are Far Off for Many
In the 13 months since the Supreme Court issued its landmark decision granting detainees at the U.S. military prison at Guantanamo Bay, Cuba, the right to challenge their confinements before federal judges, most prisoners still have not had their day in court.
Christian Science Monitor: Contractors say stimulus has been slow to kick in
Much of the $787 billion in a federal program to spur the economy was supposed to pour like mixed concrete onto American roads, bridges, and construction sites. So far, though, the amount of money funneling into US construction zones is less than expected.
Christian Science Monitor: Pelosi's biggest healthcare task: holding her party together
The massive healthcare overhaul has made managing the Democratic Party a much tougher assignment.
POLITICO: W.H. makes CEOs pay for lunch
Four of the most powerful business leaders in America arrived at the White House one day last month for lunch with President Barack Obama, sitting down in his private dining room just steps from the Oval Office.
NATIONAL
For the latest national news: www.CNN.com.
CNNMoney: Too many clunkers, too little cash
This much seems certain about the Cash for Clunkers program: Consumers are happy to take government rebates to buy new cars.
CNN: Officer who sent 'jungle-monkey' e-mail: 'I am not a racist'
The Boston police officer who sent a mass e-mail in which he compared Harvard professor Henry Louis Gates Jr. to a "banana-eating jungle monkey" has apologized, saying he's not a racist.
CNN: Search warrants seek evidence of drug addiction in Michael Jackson
Search warrants filed Thursday in court in Clark County, Nevada, and carried out at properties of Michael Jackson's doctor imply that investigators looking into his death believe the singer was a drug addict.
CNN: Fake scent-tracking dog sends man to prison for 26 years
A Florida man who was convicted of murder in part because of the work of an allegedly infallible scent-tracking dog, is free now, because the dog and the dog's owner has been exposed as a fraud. Unfortunately for Bill Dillon he had to spend 26 years in prison before the error in his case was rectified.
CNN: U.S. military scrambles jets to track airplane before it crashes
The U.S. military scrambled fighters jets to track a single-engine airplane that flew more than 300 miles past its scheduled destination before crashing in rural West Virginia on Thursday night, the U.S. Northern Command said.
CNN: Texas fertilizer fire prompts evacuation recommendation
Officials recommended that more than 70,000 residents of the East Texas town of Bryan evacuate Thursday after a fertilizer warehouse caught fire, sending thick clouds of orange, toxic smoke into the air.
New York Times: Big Banks Paid Billions in Bonuses Amid Wall St. Crisis
Thousands of top traders and bankers on Wall Street were awarded huge bonuses and pay packages last year, even as their employers were battered by the financial crisis.
New York Times: U.S. Adviser's Blunt Memo on Iraq: Time 'to Go Home'
A senior American military adviser in Baghdad has concluded in an unusually blunt memo that Iraqi forces suffer from entrenched deficiencies but are now able to protect the Iraqi government, and that it is time "for the U.S. to declare victory and go home."
New York Times: Living in Tents, and by the Rules, Under a Bridge
The chief emerges from his tent to face the leaden morning light. It had been a rare, rough night in his homeless Brigadoon: a boozy brawl, the wielding of a knife taped to a stick. But the community handled it, he says with pride, his day's first cigar already aglow.
New York Times: New Energy Injects Hope in a Colorado Steel Town
Steelworkers have toiled in this unlikely spot in south-central Colorado since the days of the cowboys and the railroad barons. Renewable energy, on the other hand, is a new concept, mostly on the horizon.
USA TODAY: Routine GI health needs not met
The number of Army medical centers and clinics that provide timely access to routine medical care has hit a five-year low, Army records show, often forcing soldiers and their families to seek treatment off base.
USA TODAY: Pushed by recession, millions make dramatic job changes
The automotive industry was the only life Ed Wozniak knew. As a teenager, he would take apart vintage cars, soup them up and put them back together in a weekend. His father was a machine repairman, and Wozniak got an apprenticeship doing similar work for Chrysler.
INTERNATIONAL
For the latest international news: http://edition.cnn.com/
CNN: Security forces, protesters face off in Iran
Security forces in Iran on Thursday confronted thousands of protesting Iranians across the city, first at a cemetery and later at a prayer venue and near a government building, witnesses and news reports said.
CNN: U.S. announces sanctions on North Korean corporation
The United States on Thursday imposed economic sanctions on a North Korean company that the United Nations said is linked to the country's nuclear weapons program.
CNN: Aung San Suu Kyi verdict delayed
A verdict expected Friday in the closely watched subversion trial of Myanmar opposition leader Aung San Suu Kyi has been delayed until August 11, said a diplomatic source attending the proceedings.
CNN: Captured leader of Nigerian militant sect is dead
Mohammed Yusuf, the leader of a fundamentalist Islamist sect who was initially reported captured Thursday by the Nigerian military, is dead, said a spokesman for the governor of the state of Borno.
CNN: Alleged rebel diary ties Ecuador president to FARC guerrillas
A diary reported to have come from a top Colombian guerrilla leader killed last year says key officials in Ecuador accepted money from the rebels and had connections with Mexican drug gangs.
CNN: Death of boxer Arturo Gatti ruled suicide
Brazilian authorities on Thursday ruled the death of former world boxing champion Arturo Gatti a suicide, according to local media reports.
CNN: Rights groups decry Gaza 'honor killing'
A 27-year-old mother of five was bludgeoned to death with an iron chain by her father last week in Gaza in what human rights groups report was an honor killing.
LA Times: Afghanistan faces growing addiction problem
The heroin fumes rose, gray and twisting, into the nostrils of Mohammed Jawad Rezaie.
BUSINESS
For the latest business news: www.CNNMoney.com.
CNNMoney: It's official: You own a piece of Citi
You now own a big piece of troubled bank Citigroup. Although some housekeeping issues remain, Citigroup effectively completed its long-awaited plan to turn preferred shares owned by the government into common stock Thursday. That gives U.S. taxpayers a 34% stake in one of the world's largest financial institutions.
CNNMoney: Overqualified and underpaid workers
These days finding a job requires sacrifice - something employers are taking full advantage of.
New York Times: When Auto Plants Close, Only White Elephants Remain
The sheer size of the sites has inspired grand visions for redevelopment — a $1 billion football stadium, a huge Hollywood movie studio, even the world's largest indoor tennis complex.
Washington Post: Now, a Clear Reading on Recovery
Friday morning, word on how fast the U.S. economy shrunk this spring will cross financial wires - and with it, new clarity on whether the deepest recession in generations is winding down.
Wall Street Journal: 'Twas 147 Shopping Days Before Christmas ...
It's the time of year when Dad's mowing the lawn, Mom's packing up a picnic, and the kids are splashing in the pool. Yep, it's beginning to look a lot like Christmas.
Wall Street Journal: Silicon Valley's Jobless Unplug From Tech
Jobless workers in Silicon Valley are giving up on the region's dominant technology industry and trying to switch to other fields, as the area's unemployment rate spikes above the national and state average.
In Case You Missed It
To watch the latest interviews and reporting: http://www.cnn.com/video.
CNN: UK's last WWI veteran buried
Henry Allingham is mourned, Britain's last WWI veteran and the world's oldest man. CNN's Paula Newton reports.
CNN: Nigeria's drug crossroads
Many of the world's illegal drugs pass through Nigeria on the way to U.S. and Europe. CNN's Christian Purefoy reports.
Subscribe to the CNN=Politics DAILY podcast at http://www.cnn.com/politicalpodcast.
And now stay posted on the latest from the campaign trail by downloading the CNN=Politics SCREENSAVER at http://www.CNN.com/situationroom.