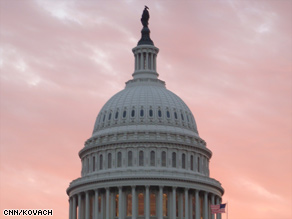 The CNN Washington Bureau's morning speed read of the top stories making news from around the country and the world.
WASHINGTON/POLITICAL
For the latest political news: www.CNNPolitics.com.
CNN: Geithner: Economy healing, but deficit must go down
The U.S. economy is no longer on the edge of collapse, but Americans face tough choices in reducing the national deficit, Treasury Secretary Timothy Geithner said Sunday.
CNN: Obama adviser: 'It's gonna be a long, hard slog getting out of this'
One of the president's top economic advisers said Sunday that the nation's recessionary economy has begun to turn around but there's still a ways to go to get back to economic growth.
CNN: Boehner leaves a video for Obama
The House adjourned last week for the annual summer recess, but Minority Leader John Boehner, R-Ohio, left behind a video for President Obama.
CNN: GOP, Blue Dogs get health reform slowdown they wanted
A key Senate committee won't vote on its compromise health care overhaul plan before the upcoming month-long August recess, giving Republicans and some conservative Democrats their desired slowdown in congressional action on President Obama's top domestic priority.
CNN: One company's innovative health care approach
When Joseph Homicz's doctor found what could be dangerous blockages of the arteries, he ordered catheterization, a common procedure in which tubes are inserted into the body to check the blood flow.
CNN: 'I'm right up there with the boys,' Romer says
The only woman in President Obama's inner circle of economic advisers said Sunday that she has no trouble holding her own with likes of Larry Summers and Treasury Secretary Timothy Geithner.
CNN: I'm 'saddened' by 'vicious attacks' on Palin, McCain says
A week after she stepped down as Alaska's governor, Sen. John McCain is expressing support for his former White House running mate.
New York Times: Two Sides Take Health Care Debate Outside Washington
With Republicans mobilizing against the proposed health care overhaul, President Obama, Congressional Democrats and leading advocacy groups are laying the groundwork for an August offensive against the insurance industry as part of a coordinated campaign to sell the public on the need for reform.
New York Times: 'Cash for Clunkers' Becomes a Republican Target
The government's "cash for clunkers" program become the latest political flashpoint on Sunday, with Obama administration officials urging the Senate to approve more money for the initiative and Republicans raising concerns about it.
Washington Post: New Detainee Site In U.S. Considered
The administration is considering whether to transfer some detainees at the military prison at Guantanamo Bay, Cuba, to a facility in the United States that would contain courtrooms to hold federal criminal trials and military commissions to prosecute terrorism suspects, administration officials said Sunday.
Washington Post: Democrats Find Rallying Points on Health Reform, but Splinters Remain
Democrats leave town for the August recess with frayed nerves and fragile agreements on health-care reform, and a new bogeyman to fire up their constituents: the insurance industry.
Wall Street Journal: For State, Local Office Seekers, Web Ads Present Potential Pitfalls
An online twist in a hotly contested race for mayor of St. Petersburg, Fla., could signal trouble for local politicians advertising on popular Web sites like Google, Facebook and Twitter.
POLITICO: New stimulus? White House may extend jobless aid
President Barack Obama's top economic advisers said in interviews aired Sunday that the administration may support an extension in unemployment benefits.
LA Times: Joint Chiefs chairman making his influence felt
Far from the prestigious windowed offices on the outer ring of the Pentagon, a new war room focusing entirely on the conflicts in Afghanistan and Pakistan sits deep inside a cavernous basement.
NATIONAL
For the latest national news: www.CNN.com.
CNN: Find in Iraq solves mystery of Navy captain shot down in '91
The remains of the first American shot down in the 1991 Persian Gulf War have been uncovered, the U.S. Department of Defense announced Sunday.
CNN: 3 American hikers detained by Iran named
They are four American friends and seasoned travelers who were hiking through Iraq's Kurdistan region before three of them crossed the unmarked border with Iran, where they were detained by Iranian authorities.
CNN: Michael Jackson's mom to seek control of estate
Katherine Jackson's legal battle for some control of her son's estate returns to court Monday in front of the same judge who is expected to award her permanent guardianship of Michael Jackson's children.
CNN: Ford to report July sales jump, company official says
Ford Motor Co. saw an increase in domestic sales this July over last, a Ford official told CNN Radio on Sunday. It was the first monthly sales gain claimed by a major automaker since the financial crisis began last year.
CNN: More of Air Force One's New York photo op released
And now, the rejects. Three months after the White House released a single photograph taken during a photo op of "Air Force One" flying over New York - a flight that caused panic on the streets below - the U.S. Air Force on Friday released the remaining 145 photos taken during the flight.
New York Times: In Kansas, Proposed Monument to a Wartime Friendship Tests the Bond
This city's small population of Vietnamese-Americans imagined a new monument in Veterans Memorial Park, a peaceful slope along the Arkansas River blooming with monuments to soldiers gone.
New York Times: Episcopal Church Picks Gay Priests for Promotion
Only weeks after the Episcopal Church ended a de facto moratorium on promoting gay men and lesbians into the church hierarchy, church leaders in Los Angeles nominated two openly gay priests as assistant bishops on Sunday.
New York Times: With Enough Soldiers, the Army Is Looking for a Few Good Officers
AFTER three straight years of growth — helped in part by a sagging job market — the Army is starting to find itself a bit bottom heavy, swollen with young recruits but short on officers to lead them. Starting Monday, it is hoping a fresh promotional effort can reverse that.
INTERNATIONAL
For the latest international news: http://edition.cnn.com/
CNN: Moussavi, Khatami blast Iran trials
Iranian opposition leader Mir Hossein Moussavi and reformist former President Mohammad Khatami on Sunday blasted the trials of people arrested in post-election demonstrations.
CNN: 700 die in fighting in northern Nigeria
Some 700 people have been killed in clashes with Islamic militants in Nigeria, a military commander told CNN.
CNN: Israeli police want nation's foreign minister charged
Israeli police Sunday recommended charging Foreign Minister Avigdor Lieberman with a slew of crimes following a lengthy corruption probe.
CNN: At least 9 NATO troops killed in weekend fighting
At least six NATO troops were killed in Afghanistan Saturday, and three more died on Sunday - a bloody start to August after a record number of NATO troops were killed there in July.
CNN: Hundreds detained after China protests
Hundreds of people have been detained in connection with ethnic riots in the northwest last month, China's state-run Xinhua news agency reported Sunday.
CNN: Cuban president vows to defend socialism
Havana is ready and willing to start a dialogue with Washington, Cuban President Raul Castro said in a speech to parliament Saturday, but warned that political and regime change are not up for negotiation.
CNN: Analyst: Music pieces probably composed by young Mozart
The music isn't new, but the discovery that a young Wolfgang Amadeus Mozart "almost certainly" composed it is a stunning revelation.
New York Times: Pakistan Valley Tries to Heal, and Fears Dark Battles Ahead
Schools have officially reopened. Soldiers stand guard at checkpoints and have established a semblance of order. Many thousands have returned here to a town that is mostly intact, if still under a military presence.
New York Times: Hate Engulfs Christians in Pakistan
The blistered black walls of the Hameed family's bedroom tell of an unspeakable crime. Seven family members died here on Saturday, six of them burned to death by a mob that had broken into their house and shot the grandfather dead, just because they were Christian.
New York Times: U.S. Weighs Iran Oil Sanctions if Nuclear Talks Are Rejected
The Obama administration is talking with allies and Congress about the possibility of imposing an extreme economic sanction against Iran if it fails to respond to President Obama's offer to negotiate on its nuclear program: cutting off the country's imports of gasoline and other refined oil products.
Wall Street Journal: Protesters In Malaysia Are Detained
Malaysia detained dozens of antigovernment protesters on Sunday, following a massive weekend demonstration in Kuala Lumpur that raised the stakes in a long-running struggle for political power in the country.
BUSINESS
For the latest business news: www.CNNMoney.com.
CNNMoney: Dealers warned off Cash for Clunkers
Despite the Obama administration's promises that any Clunker deals written this weekend would be honored, the National Automobile Dealers Association is advising its members to play it safe and not close any more deals until the program's fate is clearer.
CNN: Travel leaders, lawmakers rally behind 'blacklisted' cities
Business isn't the first thing that comes to mind when thinking about Las Vegas, Nevada, or Orlando, Florida, but these two entertainment capitals are also the top business meeting and convention destinations in the United States.
New York Times: Out of Search Business, Yahoo Shifts Its Focus
Carol A. Bartz, chief executive of Yahoo, has been hobbled.
In Case You Missed It
To watch the latest interviews and reporting: http://www.cnn.com/video.
CNN: Britain's Afghan debate
The British government is defending itself over accusations that its mission in Afghanistan is failing. ITN's Harry Smith reports
CNN: Families evicted in Jerusalem
CNN's Paula Hancocks reports on a property tussle in Jerusalem that has wider implications for the region.
Subscribe to the CNN=Politics DAILY podcast at http://www.cnn.com/politicalpodcast.
And now stay posted on the latest from the campaign trail by downloading the CNN=Politics SCREENSAVER at http://www.CNN.com/situationroom.