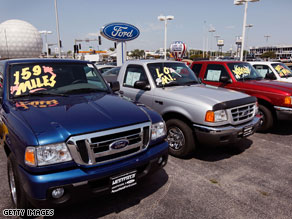 WASHINGTON (CNN) - The Senate will okay new funding for the "cash for clunkers" program before leaving this week for the August recess, Senate leaders from each party predicted Tuesday, clearing the way for the surprisingly popular program to continue uninterrupted.
"We'll pass cash for clunkers....before we leave here," said Senate Majority Leader Harry Reid of Nevada.
"In the end, we know where the numbers are," acknowledged the third-ranking Senate Republican, Sen. John Thune of South Dakota, a critic of the program who said now he expects all Democrats and several Republicans to vote for additional funding.

The predictions marked a turnaround from earlier in the week when opposition from both parties suggested quick passage was unlikely. But prospects changed as car makers and auto dealers, thrilled by suddenly crowded showrooms, pressed lawmakers to continue the funding.
The fate of the program - which pays consumers up to $4,500 for turning in an old gas guzzler for a newer, more fuel efficient car - hung in the balance for several days after nearly burning through the $1 billion approved for it earlier this year. The House approved a $2 billion extension before leaving town last week, but until now it was uncertain if quick passage in the Senate was possible.
Fiscally conservative Republican Sen. Jim DeMint of South Carolina hoped to defeat the measure, but said Tuesday he didn't have the votes.
"Whenever we spend money around here they got the votes," he said.
Republicans said they would offer amendments to try to make what the view as improvements to the bill. But lawmakers said it's unlikely any would be adopted, since changes to the bill would delay the program until differences with the House-passed version were worked out.