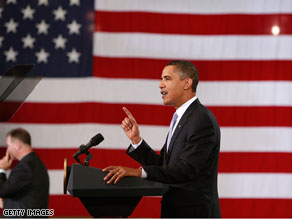 Cornyn: 'President Obama is now looking like a mere mortal, as opposed to someone who previously exceeded gravity'.
WASHINGTON (CNN) - Sen. John Cornyn dismissed the idea that congressional Republicans' near-united opposition to President Obama's agenda could backfire if economic conditions begin to improve significantly before voters head to the polls in 2010. "I would say in some ways our choices are limited" by minority status, he told reporters at a Wednesday briefing. "…We can't set the agenda, just state our opposition."
The National Republican Senatorial Committee chair said the climate was shifting, and noted the summer slide in the president's approval ratings. "I don't have to tell you about the general environment," he said. "President Obama is now looking like a mere mortal, as opposed to someone who previously exceeded gravity."
That development has contributed to the GOP's recruiting success, he said. The party's landed Gov. Charlie Crist for the Florida Senate race, and brought Rep. Mark Kirk into the race in Illinois while the Democrats' top prospect in that race – state Attorney General Lisa Madigan – opted out.
Less successful: the party's hunt for a challenger to take on Senate Majority Leader Harry Reid and his massive campaign war chest in Nevada for a "Thune-Daschle type race."

Cornyn wouldn't commit to backing Sen. John Ensign, who recently admitted an extramarital affair, should the Nevada senator decide to run for re-election in 2012, saying any statement would be premature.
"Sen. Ensign and his family and everybody involved have been through a very tough time, and I think all of us have tried to give him and his family and all involved the space to work through that," he said.
Besides, he joked, "…I may get ousted in a coup d'etat as chairman of the NRSC in 2012."
Cornyn denied that rising expressions of anger from some members of the conservative base, particularly at Democratic town halls, would play a significant role in the GOP's 2010 electoral strategy. "It's part of the process…part of the grieving process," he said jokingly, pointing to the stages of grief. Republicans had moved through denial and fear, he said, and had reached anger. Besides, "it's part of our political process for people to express ... whatever they feel" without being "demonized," said Cornyn.
The Texas senator brushed off questions about whether Republican votes against Sonia Sotomayor's Supreme Court nomination would short-circuit the party's chances of making headway with Hispanic voters, since economic issues may continue to dominate well into next year.
He also said that if Democrats opted to use reconciliation to avoid a filibuster of the health care bill, "I assure you [the process] will be contentious and ugly."