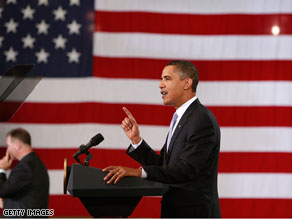 President Obama will campaign and raise money for Creigh Deeds in Virginia on Thursday night.
WASHINGTON (CNN) - Barack Obama hopes to help out a fellow Democrat tonight, as the president makes his first appearance on the campaign trail this year in Virginia, where his party's trying to hold onto the governor's office.
The president's the main attraction at a fundraiser and rally in McLean, Virginia for Creigh Deeds, the Democratic gubernatorial candidate in this November's election. The state senator is locked in what polls suggest is a tough contest with Republican Bob McDonnell, the former state attorney general. Virginia's incumbent governor, Democratic National Committee Chairman Tim Kaine, is term-limited and can't run for re-election.
This will be Obama's second campaign event since taking over as president in January. Last month, the president teamed up with New Jersey Gov. Jon Corzine, who faces a tough re-election battle this year, at a campaign rally in the Garden State.
On the same day Obama was stumping for Corzine, Vice President Joe Biden headlined a fundraiser in Richmond, Virginia for Deeds.

New Jersey and Virginia are the only states to hold gubernatorial elections this year. While both contests will focus on state issues and the strengths of the candidates, national Republicans would like to make both races a referendum on Obama and the Democratic Party, since both seats are currently held by Democrats.
"After two tough election cycles, the Republican Party is in need of some good news," says CNN Political Editor Mark Preston. "If the GOP is able to win both of these seats, it will be viewed by some as a shift in momentum away from the president and congressional Democrats. Even a pickup of one of these seats would be a huge psychological victory for Republicans heading into the 2010 midterm elections."
How can the GOP give a local race national resonance? Force the Democratic candidate in a generally conservative state to publicly side with the national party, then highlight those stands. Take the federal stimulus: Deeds favors accepting the federal funds, and McDonnell opposes the idea. Last month, during the candidates' first debate, McDonnell challenged Deeds to state where he stands on a number of other national issues. Deeds, meanwhile, accused McDonnell of focusing too heavily on federal questions.
This Saturday, McDonnell will deliver the weekly national Republican radio address, the Republican National Committee confirmed Tuesday. The address is often delivered by a Republican member of Congress or sitting governor. McDonnell has campaigned and raised money with a number of national Republican figures, including Mitt Romney, Mike Huckabee and Michael Steele.
In coordination with Obama's visit Thursday, the Deeds campaign re-launched their Web site, abandoning their green-and-blue color scheme in favor of a sleek Obama-esque blue-and-white layout.
Campaign manager Joe Abbey said the new site is patterned after the Obama campaign's online efforts in 2008, and he promised that the Deeds campaign is "ramping up our online capacity to organize and activate the grassroots in every community" in Virginia.
- CNN Political Producer Peter Hamby contributed to this report