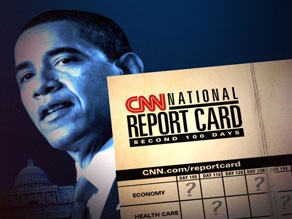 CNN's National Report Card – your take on the president's performance
Congress, controlled by Democrats, is debating health care reform legislation, and may vote on a bill by year's end after missing the original August deadline requested by President Obama. The administration's ambitious 2010 budget remains, but as of July 1, Congress had passed 39 bills that the president had signed into law, including the stimulus package, credit card reform and a $410 billion omnibus spending bill.
Fifty-two percent of you gave Congress a failing grade - but overall, you graded the performance of the Congress a D on the CNN National Report Card.