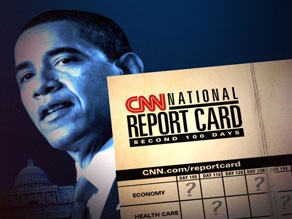 CNN's National Report Card – your take on the president's performance
As states across the country grappled with high unemployment rates, budget shortfalls and foreclosures, Congress passed the Obama administration's stimulus plan to provide some economic relief. The Senate – which confirmed President Obama's first Supreme Court pick, Sonia Sotomayor - is also debating a slew of other White House proposals, including a plan for heather care reform and an energy "cap and trade" program.
You graded the performance of your state's two senators a C- on the CNN National Report Card.