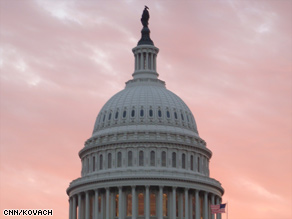 The CNN Washington Bureau's morning speed read of the top stories making news from around the country and the world.
WASHINGTON/POLITICAL
For the latest political news: www.CNNPolitics.com.
CNN: Ex-Rep. Jefferson convicted of corruption
Former U.S. Rep. William Jefferson of Louisiana was convicted Wednesday on 11 of the 16 corruption charges against him in a case that included the discovery of $90,000 in his freezer.
CNN: Democrats say Republicans staging town hall protests
Democrats are accusing Republicans of organizing "angry mobs" to disrupt town hall meetings across the country, but conservatives say the protests are a sign of the opposition to President Obama's health care plans.
CNN: Steele denies RNC role in town hall protests
Republican National Committee Chairman Michael Steele defended the GOP's decision to automatically re-direct angry liberal callers to the Democratic National Committee Wednesday, telling reporters he "thought it was a good idea."
CNN: The story behind Clinton's trip to North Korea
It took a U.S. former president with global celebrity status to free two American journalists from a North Korea prison.
CNN: Obama announces $2.4 billion for greener cars
President Obama announced Wednesday that the federal government will provide $2.4 billion in grants for the development of more fuel-efficient, battery-powered automobiles.
CNN: Poll indicates generational split over health care
Americans appear split over President Barack Obama's health care proposals, according to a new national poll.
CNN: Huckabee compares his obesity to Obama's spending
Former presidential candidate Mike Huckabee compares his past weight problem to President Obama's economic policies in a pitch Wednesday for a financial newsletter.
First on the Ticker: RNC Web video targets 'White House in denial'
On the eve of President Obama's 200th day in office, The Republican National Committee is releasing a Web video that calls his presidency "a failed experiment" that features "desperate photo-ops [and] a White House in denial."

New York Times: U.S. to Reform Policy on Detention for Immigrants
The Obama administration intends to announce an ambitious plan on Thursday to overhaul the much-criticized way the nation detains immigration violators, trying to transform it from a patchwork of jail and prison cells to what its new chief called a "truly civil detention system."
New York Times: White House Affirms Deal on Drug Cost
Pressed by industry lobbyists, White House officials on Wednesday assured drug makers that the administration stood by a behind-the-scenes deal to block any Congressional effort to extract cost savings from them beyond an agreed-upon $80 billion.
Washington Post: U.S. Considers Remaking Mortgage Giants
The Obama administration is considering an overhaul of Fannie Mae and Freddie Mac that would strip the mortgage finance giants of hundreds of billions of dollars in troubled loans and create a new structure to support the home-loan market, government officials said.
Washington Post: Obama's Battle Against Terrorism To Go Beyond Bombs and Bullets
The U.S. government must fundamentally redefine the struggle against terrorism, replacing the "war on terror" with a campaign combining all facets of national power to defeat the enemy, John O. Brennan, President Obama's senior counterterrorism adviser, said Wednesday.
NATIONAL
For the latest national news: www.CNN.com.
CNN: Police: Gym shooter 'had a lot of hatred' for women, society
A Pennsylvania man who walked into a gym aerobics class and opened fire, killing three women and wounding nine before turning the gun on himself, "had a lot of hatred in him," police said Wednesday.
CNN: Freed journalist: 'We are so happy to be home'
Laura Ling on Wednesday expressed the shock she and Euna Lee felt when former President Clinton showed up in Pyongyang, North Korea, to help secure the two journalists' release.
CNN: Programs to change gays to straights don't work, report says
The American Psychological Association concluded Wednesday that there is little evidence that efforts to change a person's sexual orientation from gay or lesbian to heterosexual are effective.
CNN: 2 more Republicans say they'll support Sotomayor
The Supreme Court nomination of federal Judge Sonia Sotomayor gained even more momentum Wednesday as two more Republican senators announced their support for the country's first Hispanic high-court pick.
CNN: After 34 years, Lynette 'Squeaky' Fromme to be released
The president she once pointed a gun at has been dead for nearly three years, and her longtime idol and leader, Charles Manson, remains in prison.
CNN: Gulf War officer's remains to be buried in Florida
The remains of the first American officer shot down in the 1991 Persian Gulf War, identified on August 2, will be taken to Jacksonville, Florida, for burial, said a family spokeswoman.
CNN: Bank teller stops alleged robber, loses job
Jim Nicholson could've just handed over the cash. Instead, he gave the would-be robber a run for his money - and paid for it.
New York Times: On the Fairway, New Lessons in Saving Water
Six years ago, when Georgia's state government rewrote its rules for water use during droughts, it cut no slack for an obvious culprit: golf courses.
USA TODAY: From Dreamliner to lost military deals, problems nag Boeing
This was to be Boeing's summer of triumph. Dozens of its groundbreaking 787 Dreamliners were supposed to be in commercial airline service around the world by now, changing the nature of global air travel.
USA TODAY: Fatal Buffalo shooting follows rally for safer streets
A shooting outside a home in a blighted neighborhood left two people dead and three others wounded early Wednesday, just hours after police and community members rallied for safer streets.
Wall Street Journal: No More Perks: Coffee Shops Pull the Plug on Laptop Users
A sign at Naidre's, a small neighborhood coffee shop in Brooklyn, N.Y., begins warmly: "Dear customers, we are absolutely thrilled that you like us so much that you want to spend the day..."
LA Times: Budd Schulberg dies at 95; author of 'What Makes Sammy Run?'
Budd Schulberg, who exposed the dark side of American ambition in his acclaimed Hollywood novel "What Makes Sammy Run?" and won an Academy Award for his screenplay depicting the mob-controlled longshoremen's union in the film classic "On the Waterfront," has died. He was 95.
INTERNATIONAL
For the latest international news: http://edition.cnn.com/
CNN: Hillary Clinton: We're committed to Africa's future
U.S. Secretary of State Hillary Clinton started the first leg of her African tour Wednesday with a message of support for Africa's developing economies.
CNN: U.S. delays counternarcotics aid to Mexico
The release of a report that would free up more than $100 million in U.S. aid to Mexico to combat drug cartels has been delayed by Sen. Patrick Leahy, D-Vermont.
CNN: Editor in obscenity trial for childbirth photos
The news editor of the Zambian newspaper The Post has gone on trial for allegedly circulating obscene material to politicians, the newspaper states on its Web site.
CNN: Security tight as Iran's Ahmadinejad sworn in
With hundreds of protesters gathering and riot police out in force on the streets of Tehran, hardline President Mahmoud Ahmadinejad took the oath of office Wednesday, beginning a second term in a bitterly divided Iran.
CNN: Chavez criticizes Colombia over weapons claims
Venezuelan President Hugo Chavez on Wednesday blasted accusations that his government supplied Colombian guerrillas with shoulder-fired anti-tank weapons and accused the neighboring country of blackmail.
CNN: New NATO chief visits Afghanistan
New NATO Secretary General Anders Fogh Rasmussen arrived in Afghanistan on Wednesday for meetings with military and political leaders and troops on the ground just days after taking over the alliance's top post.
New York Times: After Clinton Trip, U.S. Studies Signals From N. Korea
A day after former President Bill Clinton's flight into North Korea to win the freedom of two American journalists, the Obama administration moved Wednesday to send a stern message to the North Korean government: nothing has changed.
New York Times: 70 Murders, Yet Close to Going Free in Pakistan
It has been 12 years since Fida Hussein Ghalvi testified against the militant who was charged with killing 12 members of his family. But some days he feels as if he were the one who ended up in jail. He still gets threats, his servants all quit and an armed guard is posted at his gate.
New York Times: Kenya's Volatile Politics Shadow Clinton
Secretary of State Hillary Rodham Clinton's first full day in Africa, like much of the rest of her seven-nation tour, was supposed to be about bolstering trade and friendship with important allies.
Wall Street Journal: Pakistan Taliban Chief's Wife Killed in U.S. Missile Strike
A U.S. missile strike in Pakistan's South Waziristan tribal region Wednesday killed a wife of Baitullah Mehsud, the chief of the Pakistan Taliban, and two others, according to residents and security officials.
BUSINESS
For the latest business news: www.CNNMoney.com.
CNNMoney: Obama agenda: Taxes, not just health care
President Obama's fall agenda has grown larger as some of the biggest decisions - and fights - over health care reform have been punted to September ... at the earliest.
CNNMoney: Obama mortgage rescue: Only 9% getting help
The Obama administration's first progress report on its foreclosure prevention plan confirms it is off to a slow start.
Wall Street Journal: Rise in Pump Price Looks Temporary
The pump price of gasoline has started ticking up again after a dip in July, reaching $2.585 on Wednesday, but drivers aren't likely to face a prolonged increase in the cost of filling their tanks.
LA Times: In healthcare debate, small business becomes pivotal
As they work to overhaul the nation's healthcare system, President Obama and his congressional allies have pledged to help small-business owners such as Rhonda Ealy and Kelli Glasser.
In Case You Missed It
To watch the latest interviews and reporting: http://www.cnn.com/video.
CNN: Kid's eye view
Mother and child reunion seen through the eyes of a 4-year old. CNN's Jeanne Moos reports.
CNN: In depth with Iranian militia
CNN's Fred Pleitgen recently spoke with a former member of an Iranian militia group.
Subscribe to the CNN=Politics DAILY podcast at http://www.cnn.com/politicalpodcast.
And now stay posted on the latest from the campaign trail by downloading the CNN=Politics SCREENSAVER at http://www.CNN.com/situationroom.