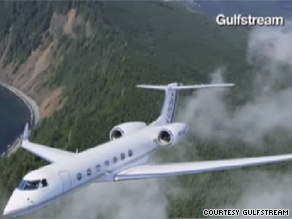 Join the conversation on Jack's blog.
(CNN) - In an update to a story we brought you last week in the Cafferty File:
A group of Republican and Democratic senators is now saying "not so fast" to the House's plans to spend more than a half a billion dollars on new jets.
The Wall Street Journal reports that these senators — along with the Pentagon — are critical of the $550 million plan to buy 8 new Gulfstream and Boeing planes for government officials and VIP's to fly around in.
Democratic Senator Claire McCaskill says, "The whole thing kind of makes me sick to my stomach" adding that the move paints members of Congress as "out of touch", spending money like it's Monopoly money. Several senators are planning to oppose the purchase when they take up the bill in the fall.
To read more and contribute to the Cafferty File discussion, click here.