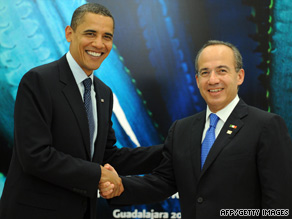 President Obama shakes hands with Mexican President Felipe Calderon in Gaudalajara, Mexico, on Sunday.
(CNN) - Interesting tests for President Obama on the world and domestic stages top the look at the week ahead, but the nation's political mood could be shaped just as much by the earnings reports from a few big retailers.
Last week, Obama found a glimmer of hope in the Labor Department report showing a small dip in the national unemployment rate and a less drastic bleeding of jobs from the economy. To be clear, 247,000 more Americans were thrown out of work in July. But the number of job losses had been double that or more in some months of late, so the White House saw the change as evidence the worst is over.
But consumer confidence remains low, something Republican pollster Bill McInturff believes will be a drag on Obama's political standing for some time.
As McInturff put it: "I've done a lot of work looking at consumer confidence, and there's only been four times since post-World War II that numbers have been this bad. Every other time that they've been this bad, it's taken between two to four years to improve.
"We've had 17 months. We have a long, long way to go, historically, before these numbers get better. And the problem for the president is not this year but next summer. And by next summer, people are going to have, kind of, a fuzzy memory of George Bush, and it will be the 'Obama Administration economy'."
With that in mind, it won't just be Wall Street looking deep for any evidence of an uptick in spending when Wal-Mart, Macy's and JC Penney, among others, release their earnings.
Obama opens the week in Mexico for a summit with the leaders of Mexico and Canada. The economy will be the top issue, and other items on the agenda include preparations for the next wave of the H1N1 flu virus and efforts to help Mexico deal with its drug cartel violence.