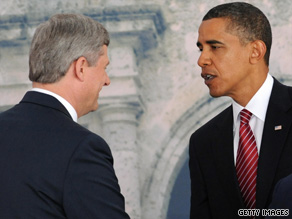 President Obama defended a 'Buy American' provision in the economic stimulus bill during a press conference with Canadian Prime Minister Stephen Harper Monday.
GUADALAJARA, Mexico (CNN) - President Barack Obama said Monday that a "Buy American" provision in his economic stimulus plan had little effect so far on the multibillion-dollar trade partnership with Canada.
Obama told journalists at a summit with the leaders of Canada and Mexico that Canadian Prime Minister Stephen Harper has raised the issue every time they have met.
Harper has complained the "Buy American" provision is protectionist and could harm trade relations between the closely linked North American economies.
"This in no way this has endangered the billions of dollars of trade taking place between our two countries," Obama said, standing beside Harper and Calderon at a final news conference.

Harper responded to the same question by saying the leaders had a good discussion on the issue, and their respective trade ministers also were talking about it.
Canada is the top trade partner of the United States, with cross-border commerce worth more than $1 billion a day.
The $787-billion stimulus package enacted in February included a provision that only American goods be used in stimulus projects. It also stipulated that the measure would not override existing U.S. trade treaties such as the North American Free Trade Agreement.