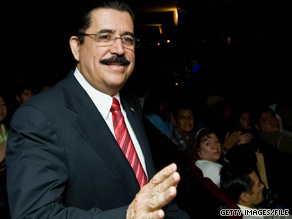 President Obama spoke out Monday in defense of the U.S. stance on ousted Honduran Presiden Jose Manuel Zelaya.
GUADALAJARA, Mexico (CNN) - Critics who say that the United States has not been forceful enough in demanding the return of ousted Honduran President Jose Manuel Zelaya to power are being hypocritical, President Obama said Monday.
"The same critics who say that the United States has not intervened enough in Honduras, are the same people who say that we're always intervening and that Yankees need to get out of Latin America. You can't have it both ways," said Obama, speaking at the North American Leaders Summit in Mexico.
"We have been very clear in our belief that President Zelaya was removed from office illegally, that it was a coup, and that he should return," Obama said.

The United Nations and Organization of American States, including the United States, have called for Zelaya's return, but more than one month later, the interim government of Roberto Micheletti remains firm and talks between the two sides have so far been unsuccessful.
Canadian Prime Minister Stephen Harper agreed with Obama's stance.
The United States has very clearly stated its position while letting a multilateral process take the lead, he said.
"That's precisely what we want to see from the United States," Harper said.